Dragon Reseller Partner Program
Dragon partner programs provide members with exclusive content and resources to gear you towards success with our solutions.
Partnership for success
Whether you recommend, distribute or resell Dragon products and solutions, the Dragon Connections Partner Program is geared towards your success. Receive the most comprehensive technical support on our professional products along with training and certification. Free support continues with branding opportunities from eDist Marketing. Receive personal assistance from an assigned Nuance sales, marketing, or technical resource, or benefit from a combination of self-service and live support.
Meet your sales goals
Increase your revenue and profits
Differentiate your products and services within your target markets
Provide a relationship framework that simplifies business interactions and rewards
Pricing incentives
Enjoy marketing support
Qualified leads
Personalized marketing planning
Access to Nuance Partner Portal
Joint lead generation campaigns
Access to our resources
Customer-facing campaign materials
Access to 24/7 Technical Support
Access to Knowledge Base
Access to sales and marketing collateral
Partnership tiers
Grow your business with us
Partners can choose between four partnership tiers and will become eligible to move up each level if they exceed the annual sales levels outlined below.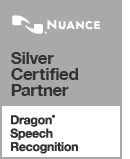 Silver
Silver level partners have access to training and certification courseware, marketing collateral and content, as well as discount and pricing available through distribution. To advance within the program, they must meet annual revenue commitments that lead to enhanced benefits and accessed to shared sales team resources.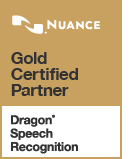 Gold
Gold partners are committed to leading to leading with Dragon when selling speech recognition solutions. They receive a higher discount than Silver level partners and work directly with sales team resources to maximize sales resources including account mapping, pipeline review and business planning.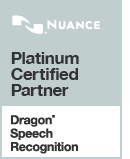 Platinum
Platinum partners, at this invitation-only level, receive the maximum marketing, sales, and technical benefits as well as deepest discounts. While they must meet the highest set of requirements, they also benefit from discretionary marketing support, business planning and regular business review.
Marketing campaign and sales tools
To access sales and marketing resources you will need to create an account on our reseller marketing portal and follow the steps below: eDistmarketing(Open a new window)
New customers click on "Request Access"
Complete the form to request access to the eDist Marketing Portal
Choose your eDist Sales Representative
Choose which marketing portal you wish to access
Fully fill out the application, and within 2-3 days you'll have access
The portal provides access to product assets, like data sheets, comparison charts, logos, product images, etc. It also includes other resources you can use to run email marketing campaigns, Facebook ads, web banners, and many other marketing activities.