Automate more engagements. Service more customers.
Nuance Virtual Assistant and chatbot AI delivers intelligent, conversational engagements that increase self‑service usage and improve customer satisfaction.
Microsoft + Nuance
Nuance Digital Engagement Solutions are part of the Microsoft Digital Contact Center Platform, an open, extensible, and collaborative platform for seamless, omnichannel customer engagement.
Learn more
Create effortless customer self‑service experiences
Nuance Virtual Assistant combines the latest advances in virtual assistant AI, deep neural networks, and machine learning to create personalized, conversational engagements across all digital channels.
With frictionless, effective self-service, you can give customers fast answers to their questions, increasing customer satisfaction while reducing contact center costs. And when customers are transferred to a live agent, you can pass the full context of the conversation to the agent with the right skillset, eliminating customer effort and accelerating time to resolution. And with Nuance Essentials for Virtual Assistant, you can get up and running with a powerful chatbot in as little as three weeks.
Benefits
Conversational AI that delivers measurable business value
Nuance Virtual Assistant enables you to serve customers more effectively, reduce the number of cases that are transferred to agents, and simplify your AI for customer service transformation.
Improve customer satisfaction
Personalize self‑service engagements based on context, sentiment, and history, and guide customers to the best outcome. Deliver seamless handovers to live agents to create intelligent, consistent experiences that boost customer loyalty.
Drive new revenue opportunities
Use customer profiles, purchasing history, and an AI‑powered targeting engine to engage customers at the right time and offer personalize incentives and targeted upsell opportunities to boost sales.
Accelerate time to value
Get your chatbot up and running within three weeks, or an intelligent VA within eight—and start generating business value from day one. With virtual assistant AI that learns from existing IVR call logs, chat transcripts, and other organization‑specific information, the VA will deliver customer value quickly and transfer to a live agent, when needed, while maintaining context.
Scale with ease
Nuance Virtual Assistant is built for the enterprise, and answers with the same confidence whether you need a simple FAQ chatbot or a comprehensive virtual assistant that understands hundreds of complex customer intents.
Increase agent efficiency
Nuance Virtual Assistant handles repetitive inquiries so agents can focus on more complex cases. And if the virtual assistant needs to transfer to a live agent, it includes all the context of the conversation, helping agents resolve queries faster.
Enhance data security
Provide end‑to‑end encryption for conversations on channels that support it. Mask and encrypt sensitive data in the reporting database and in customer and agent‑facing tools. And rely on technology based on the latest security and data protection standards to meet industry‑specific compliance requirements.
Real-world business outcomes
Nuance Virtual Assistant is relied on by brands worldwide to deliver measurable business value.
28%
drop in live agent interactions
40%
decrease in average handle times
92%
first contact resolution in the virtual assistant
320%
ROI for every $1 spent on the virtual assistant
Better digital experiences, faster
Speed deployment of a superior digital customer experience in as little as three weeks with Nuance Essentials for intelligent chatbots and VAs. Using industry‑specific intents and proven experience, this AI‑based platform integrates with your data, providing organizations with personalized responses across any channel and the ability to escalate to live chat as needed.
Learn how to deploy an AI-powered chatbot for retail(pdf. Open a new window) and banking.(pdf. Open a new window)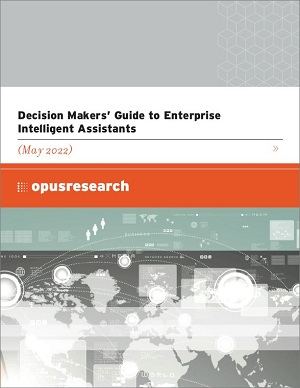 Opus Research: Decision Makers' Guide to Enterprise Intelligent Assistants, 2022 Edition
Discover why Nuance has been ranked ahead of the pack for the fifth year in a row in Opus Research's comprehensive assessment of the intelligent assistant landscape.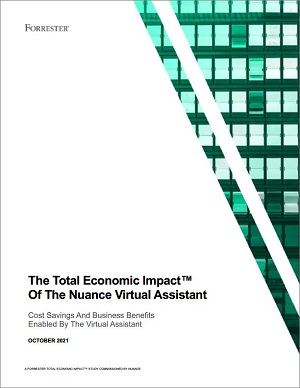 Forrester: The Total Economic Impact™ Of The Nuance Virtual Assistant
Discover how the Nuance Virtual Assistant provides advanced capabilities that create powerful business outcomes—delivering payback in less than six months and a 353% three‑year ROI.
Features
What you get with Nuance Virtual Assistant
Integrate intelligent self-service into every AI-based customer experience journey.
Targeting engine
Target customers with the right kind of engagement—automated or human-assisted—at the right time, with real‑time analysis of digital behavior, live agent availability, and historical information.
Learning loop
Nuance Virtual Assistant combines pre‑trained dialog with knowledge specific to your business and then learns from your live agents' expertise to continuously improve its ability to handle customer inquiries.
Support for speech, text, and rich media
Offer convenient, effective conversations that supports speech, text, and rich media messages —including carousels, forms, images, and videos - and the ability for agents to view these in the Agent Desktop.
Vertical package solutions
On top of its pre‑loaded, generic NLU capabilities, Nuance Virtual Assistant offers multi-language support and industry‑specific packages trained to understand customer intents and terminology commonly used in retail, banking, telecommunications, and more.
Live agent escalation
When it doesn't know the answer, or a customer requires additional support, Nuance Virtual Assistant seamlessly routes the inquiry to a live agent with the best skillset. And with Virtual Assistant Coach, agents can select the right customer intent when the virtual assistant gets stuck.
Contextual transfers
Allow customers to toggle seamlessly between channels without having to repeat themselves. Whether customers are switching from an IVR to text messaging, or an automated platform to a human‑assisted conversation, context always follows.
Consistent omnichannel experiences
Provide the same experience on every channel, using Nuance Mix to design your virtual assistant once and deploy wherever you need it, including web, mobile, branded apps, and messaging channels. Offer customers seamless transitions between channels—and between virtual and human assistance—without losing context.
Build it your way
Use Nuance Mix tooling to build and share Natural Language Understanding (NLU) and dialog content across channels, reducing the time, effort, and cost of deploying omnichannel conversational experiences.
Cross-platform reporting
Gain complete visibility of self‑service and human-assisted interactions in every channel, allowing you to continuously optimize customer journeys, identify areas for improvement, and increase conversion and first contact resolution rates.
Third-party integration
Our open, flexible framework allows you to seamlessly integrate with third‑party solutions like virtual assistants and CRM tools to streamline the customer experience and get more business value from your existing investments.
Learn more about how you can increase automation, improve customer satisfaction, and reduce costs.