Unleash the power of The Modern Voice for powerful customer service
Nuance market‑leading voice solutions offer AI‑powered, enterprise‑grade speech technologies that enable your organization to create interactive voice response (IVR) and speech solutions that feel almost human.

Start a conversation with your customers
The importance of speech technologies for customer service rises every day. There are new ways to use the power of voice to engage organizations—for questions, ordering products, checking delivery dates—all of which boost customer satisfaction. And people still love to talk directly to an agent to resolve important or complex issues. That's why many leading organizations are working with Nuance to create powerful and effective interactive voice response and speech‑based solutions that increase customer self‑service, meet customer demands and drive operational efficiency. Are you ready to start talking?
Learn how The Modern Voice is redefining the ways brands engage with customers through conversational AI.
Get our latest resources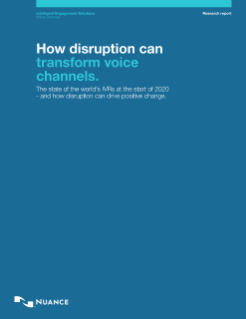 (pdf. Open a new window)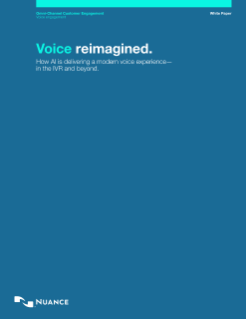 (pdf. Open a new window)
Reaching new heights in self‑service
Nuance voice solutions enhance the customer experience while enabling companies to reduce call center costs. See how American Airlines (US Airways) reaches new heights in customer service with a fast, personalized self‑service IVR system.
How modern is your IVR?
Take this quick assessment to instantly get your IVR maturity score, along with personalized, actionable recommendations that you can start using immediately to drive improvements.
Get started

(Open a new window)
Catalyst for CX Success
Insights and resources on how organizations can better manage customer engagement amid disruption—and beyond.

Visit the infohub
Technologies
Accurate, intuitive and innovative. Naturally.
Nuance has offered innovative speech technologies for over 20 years, and we're ready to help your business deliver better customer service.
Improved customer experiences
Today's digital world means consumers can quickly shift their business to a competitor if they're unsatisfied with your service. With Nuance voice technologies, you can create compelling IVR and voice solutions that deliver intuitive, self‑service experiences your customers will love.
Reduced operational costs
Nuance can help your call center reduce costs—applications, infrastructure, people—while still meeting customer expectations. Our intelligent voice technologies in the IVR drive efficiencies across your entire operation.
Minimized TCO meets maximized ROI
Partnering with Nuance on a conversational IVR platform is a smart technology investment for your call center—and one that delivers a significant return for your business and executives.
For your customers
Increase customer satisfaction, NPS scores and loyalty.
Gain a positively differentiated brand perception.
Develop a consistent customer experience across multiple channels.
For your operations
Improve automation metrics (containment, misroutes) through increased self‑service IVR use and effectiveness.
Decrease call center cost metrics (cost per transaction, AHT) through improved call resolution and deflection.
Gain greater contact center efficiency through improved agent utilization and reduced labor expense.
For your long‑term ROI
Streamline costs and investments with technology and support for multiple channels and existing systems.
Optimize interactive voice response solutions over time through insights that increase efficiency and ROI.
Simplify operations and investments by growing with one market leader.
Recognizing the demand for voice and speech
67%
of customers had a live conversation with a customer service representative or agent via telephone in 2016.
"2017 Customer Service Trends: Operations Become Smarter and More Strategic." —Kate Leggett. Forrester.
20 years
Nuance is a leader in the speech industry, with over 20 years of experience in recognition, translation and Text‑to‑Speech capabilities.
Ready to hear how Nuance can help your organization create better IVR and voice solutions? Let's talk.