Bring intelligence to your voice channels
Nuance voice and IVR solutions create intelligent, conversational experiences customers love—while driving down contact center costs.
Microsoft + Nuance
Nuance Voice and IVR solutions are part of the Microsoft Digital Contact Center Platform, an open, extensible, and collaborative platform for seamless, omnichannel customer engagement.
Learn more
Enhance CX and deliver superior contact center results
Nuance voice and IVR solutions give customers natural, conversational experiences and effective, satisfying self‑service interactions. Our Conversational IVR, Call Steering, and Dragon TV automate and personalize conversational customer engagements. And our Voice‑to‑Digital solutions use AI‑based self‑service and call deflection to move callers to less expensive, more convenient digital channels.
Powerful solutions for simple, satisfying experiences
Nuance IVR and voice solutions allow customers to interact with your brand using natural language, helping you reduce friction and frustration, encourage self‑service, and increase contact center efficiency.
Your IVR, your way
Flexibly deploy Nuance Conversational IVR on any third‑party cloud, in the Nuance cloud, on‑premises, or in a hybrid environment to deliver conversational self‑service experiences that automate inbound call resolution.

What's more, you can even integrate its powerful, AI‑based capabilities into your existing IVR, so you can design unique experiences for your brand and improve critical contact center metrics.
Learn more about Cloud IVR
Benefits
Faster, more effective customer conversations
Deliver effortless, conversational experiences that increase customer satisfaction, shorten call times, and reduce contact center costs with Nuance voice solutions.
Improve the customer experience
Let customers interact with your IVR and voicebots in their own words to have satisfying, conversational experiences. No more infuriating menu trees—just fast, accurate answers.
Reduce costs
Embed intelligence in the IVR to improve first contact resolution. And when calls need to be transferred, direct them to the right agent first time, and empower agents to provide a quick resolution.
Rely on proven technologies
Implement conversational AI built on speech‑to‑text, text‑to‑speech, and natural language understanding engines that have been optimized over decades of innovation leadership and thousands of enterprise deployments.
Protect investments
Deploy conversational AI applications on-premises or in the cloud. Tailor them for reuse across channels with Nuance Mix. And add intelligence to your existing investments by integrating Nuance engines with third‑party IVRs and CCaaS partners.
Humana creates effortless customer experiences
Learn how this major health insurer increased its NPS in the phone channel by 80% by deploying a conversational IVR that recognizes and predicts more than 1,000 customer intents.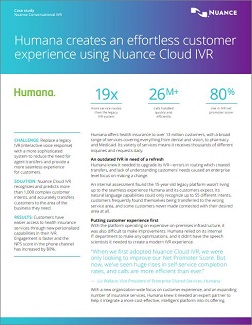 Real-world business outcomes
25%
increase in agent availability
30%
reduction in call transfers
85%
increase in IVR Net Promoter Score
Andrea Hanlon, VP Retail Delivery discusses their journey with Nuance, from VA to Live Assist, Gatekeeper and Conversational IVR.
Nathan Stinson, VP of Member Services discusses how they began with Conversational IVR and have rolled out virtual assistant, Live Assist and Gatekeeper to invest in fraud reduction and customer satisfaction.
Learn how you can make it simple for customers to engage with your brand—increasing satisfaction while reducing costs.