Proactively reach and engage customers where they are
Nuance Proactive Engagement lets you pre‑emptively start a conversation with customers across channels to lower costs and increase revenue.
Keep your customers in the loop
Nuance Proactive Engagement enables you to send relevant information and reminders to customers in their preferred channel and allow them to respond quickly and easily in the same channel.
With intelligent, proactive notifications, you can create more personalized experiences that motivate customers to complete actions that serve their own needs—while improving your most important business metrics. And you can do it all safe in the knowledge that robust compliance controls and a highly secure cloud infrastructure will keep your customers and your business protected.
Benefits
A simple way to reach more customers
Nuance Proactive Engagement helps you deliver compliant, secure communications that get results.
Increase efficiency
Inform, remind, or collect information from large numbers of customers cost‑effectively, with automated communications across multiple channels based on individual preferences.
Drive revenue
Motivate customers to complete specific tasks with timely, relevant, and actionable information for appointment confirmations, bill payments, and product orders. Use personalized, ad hoc messages to deliver customized offers and incentives to help drive additional sales.
Reduce call volumes
Increase self‑service containment and reduce inbound calls by proactively alerting customers to upcoming tasks and enabling them to address their needs with a virtual assistant or a live agent in the same channel as the notification.
Improve customer satisfaction
Send customers timely reminders and alerts and provide convenient, one‑touch resolution for questions or issues. Get detailed insights to assess outbound communication campaigns and the customer experience, and optimize your notification strategy to continuously improve response rates.
Support compliance
Simplify compliance with a variety of consumer communications regulations by recognizing and filtering key compliance triggers and creating communication audit trails to help meet state and federal regulations, including TCPA, CFPB, and state calling rules.
Protect sensitive customer data
Keep sensitive healthcare, collections, and financial services data private and secure with a solution built to support ISO 27001 standards and HIPAA, PCI DSS, and GLBA compliance.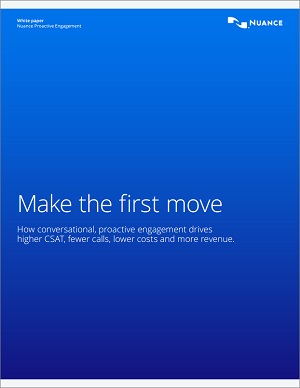 Make the first move
Learn how conversational, proactive engagement drives higher CSAT, fewer calls, lower costs, and more revenue.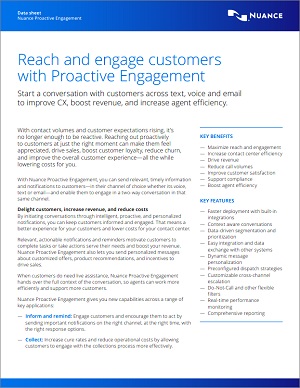 Reach and engage customers
Find out more about all the key features and benefits of Nuance Proactive Engagement.
Features
What you get with Nuance Proactive Engagement
Send notifications that increase engagement and enable action.
Two‑way conversations
Let customers reply to messages in the same channel, starting a two‑way conversation with a virtual assistant or live agent to get the support they need.
Information and reminders
Engage customers and encourage them to take action by sending important notifications such as order status changes, delays, payments due, appointment reminders and follow-up messages, fraud notifications, and more.
Message on demand
Gain reliable critical communication coverage before, during, and after unplanned events, emergency situations, or planned situations such as service changes, updates, or outages.
Collections
Enable customers to engage with the collections process more effectively, helping you to increase cure rates and reduce operational costs.
Get the conversation started
See how Nuance Proactive Engagement can help you reach out and start a conversation with customers at just the right moment by intelligently automating and orchestrating communications across email, voice, and text.
Learn how you can offer proactive service to reduce contact volumes and increase revenue.