GPT‑enhanced functionality
Based on the Azure OpenAI Service, you can expand the range of inquiries that can be handled through self‑service, rather than escalated to an agent.

GPT technology can quickly track down and incorporate domain‑specific information from websites, documents or live agent logs to provide accurate, meaningful responses in a conversational way, improving the customer experience while increasing automation.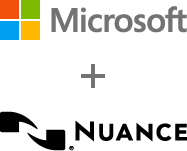 Sign up and stay informed
Sign up to become a Mix user. Once logged into Mix, join the waitlist for a preview of Nuance Mix Answers, a new copilot feature. See you there!
Sign up for Mix

(Open a new window)