Industry‑leading innovation meets advanced AI
Nuance core technologies power the solutions that enhance billions of customer interactions every year. Perfected through years of research and development, our proven technologies elevate the conversation with advanced AI and integrated tooling.

Get our latest resources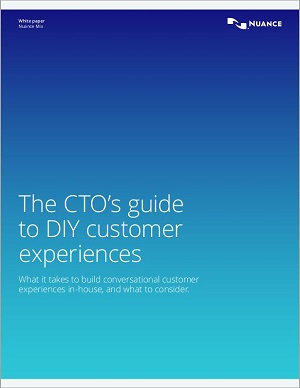 (pdf. Open a new window)
Automatic Speech Recognition (ASR)
Technology that recognizes what your customers need
Automatic Speech Recognition is the foundation of our automated self-service contact center experience. Accurate, reliable, and extremely versatile, this technology enables your customers to interact with the system by simply using their voice.
Explore Automated Speech Recognition
Nuance Recognizer is the software at the core of our contact center automation solutions, delivering the industry's highest recognition accuracy while encouraging natural, human‑like conversations for self‑service customer interactions.

Nuance Recognizer features more than 75 languages and dialects, so you can implement a multilingual self‑service system from Argentina to New Zealand.
Text-to-Speech (TTS)
Hearing is believing
The latest advances in TTS technology deliver ultimate flexibility in self‑service applications without sacrificing quality. A diverse voice portfolio, multi‑language capabilities, custom voices and powerful tuning tools make an investment in voice talent obsolete.
Nuance Vocalizer is an enterprise‑ready spoken output engine that enhances the IVR experience and enables more human, personalized customer interactions. And it comes equipped with 53 languages and over 119 voices.
Build with leading AI‑based services and APIs
Create innovative, best of breed experiences with services and APIs for speech, VA/chatbots, messaging, biometric authentication, and fraud prevention.

Learn more

(Open a new window)
Real-world success stories
Hear how UMB created a personalized, speech‑based call center and increased their containment rate from 40% to 80% in just five years.
Hear how Turkcell Global Bilgi has provided a more intelligent customer experience with Call Steering.
Discover how Oracle sales team gets more done with their speech enabled mobile CRM app.
Natural Language Understanding (NLU)
Smart technology for a seamless self‑service experience
Natural Language Understanding advances the boundaries of human-machine interaction. By learning and adapting to your customer's natural input, NLU redefines the user experience and creates new opportunities to improve self‑service interactions.
Explore Natural Language Understanding
Call Steering lets customers use their own words to describe why they are calling, resulting in a faster, more direct path to resolution while increasing automation, reducing transfers and improving customer satisfaction.
Our virtual assistant, Nina, transforms your website and mobile experiences by engaging with your customers conversationally as a human employee would—all while reducing operating costs and increasing shopping cart value and conversions.
Automated Dialog Design
Nuance Project Pathfinder™ is an emerging new AI technology that uses machine learning and innovative Nuance AI to automatically build conversational dialog models using logs of human conversation.

79% of consumers prefer speech automation systems (natural language or directed dialogue) over touch tone.
Voice biometrics
Safe and secure by the sound of your customer's voice
Improving the customer experience, reducing agent-assisted service costs and cutting down on fraud. This is the proven track record of Nuance voice biometric solutions, deployed at the world's most trusted financial institutions and innovative enterprises. Discover a world without passwords, PINs and security questions.

Voice biometrics can authenticate users in five seconds, 80% faster than knowledge‑based authentication.
Diving deeper into core technologies for your customers
Learn more about the technologies built for your business and designed around your customers.