Streamline legal documentation—all by voice
Spend less time on documentation and more time serving clients. Designed with an all-new, next-generation speech engine leveraging Deep Learning technology, Dragon Legal Individual, v15 enables you to create, edit and format case files, contracts, briefs and more—all by voice—for improved efficiency, reduced transcription time and costs, and faster document turnaround.
Starting at $50000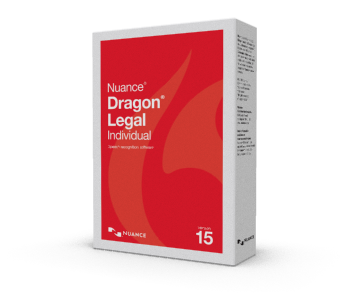 See Dragon Legal in action
Put your voice to work
Legal professionals in practices of all sizes face documentation overload, resulting in document backlogs, high transcription costs, and less time for billable work. Use Dragon Legal Individual speech recognition to create and manage legal documentation—quickly and accurately—by voice.
Features and benefits
Improve legal practice productivity
Enjoy legal-specific accuracy.
Built with a specialized legal vocabulary to deliver optimal recognition accuracy—right out of the gate—when you dictate legal terms.
Speed document turnaround.
Quickly dictate and edit case files, contracts, and briefs by voice; even format legal citations automatically.
Boost efficiency with customizations.
Add custom words specific to your practice or create custom commands to quickly insert standardized content and shortcut repetitive tasks by voice.
Eliminate or reduce transcription time and costs.
Record legal notes using a digital recorder for later transcription by you or your staff; streamlined setup lets you transcribe audio files with speed and ease.
Use your favorite applications.
Dictate, edit and control within your desktop applications by voice, and enjoy fully voice-driven editing and command capabilities in many web applications when using supported browsers.
Be productive anytime, anywhere.
Use Dragon on popular form factors such as portable touchscreen PCs. Or connect seamlessly with Dragon Anywhere mobile dictation solution and complete documentation on your iOS® or Android device.
Powered by Deep Learning
Speed legal document turnaround times
Using a next-generation speech engine leveraging Deep Learning technology, Dragon adapts to your voice or environmental variations—even while you're dictating—to accelerate legal documentation turnaround for improved client service. Prepare case files, contracts, briefs and format citations automatically—all by voice.
Create custom words specific to clients, industries, or areas of specialty
Insert standardized content quickly by voice using auto-texts commands
Short-cut repetitive tasks by creating custom voice commands
Work within popular business applications—often with Full Text Control for fully voice-driven editing and command capabilities
Designed for legal
Document clients' cases with detail and accuracy
Designed specifically for individual attorneys and other legal professionals, Dragon Legal Individual is trained using more than 400 million words from legal documents to deliver optimal recognition accuracy for dictation of legal terms right from the start. It captures specific legal terminology quickly and accurately to minimize the need for edits.
Extensive, built-in legal vocabulary covers terminology specific to the legal community
Create, import and share custom words specific to your clients, practice or specialty
Join our webinar
Transform the way
your practice works
Discover how speech recognition can help your firm focus on billable work, while ultimately providing better service to your clients.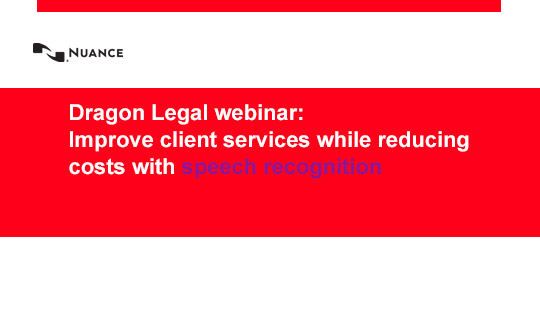 Why attend this webinar?
Learn how the document process can impact client demands for efficiency and accountability.
See how speech recognition can increase productivity.
Understand how to positively impact the transcription process.
Fill out the form and view the on demand webinar.
Work from the road
Get legal documents done anytime, anywhere
Keep up with documentation even when in court or visiting clients. Dragon works with popular form factors such as portable touchscreen PCs. And it syncs with Dragon Anywhere, the separate, cloud-based mobile dictation solution, letting you create and edit documents of any length by voice directly on your iOS or Android device for seamless productivity no matter where your job takes you.

Speak as long as you want to complete documents of any length
Easily create form-based templates and fill out forms, such as client in-take forms—from anywhere
Import and export to and from popular cloud-based document-sharing tools like Dropbox® and note-taking apps like Evernote®
Sync with Dragon Legal Individual and complete work started on the road back at your desktop for seamless document workflows
*Subscription is required for Dragon Anywhere
Powerful transcription
Eliminate or reduce transcription time and costs
Transcription services are costly and can slow down documentation processes. Dictate into a digital voice recorder and Dragon will automatically transcribe the recordings when you connect to your desktop. You can also transcribe another single speaker's voice from pre-recorded audio files or from podcasts. Streamlined setup makes transcription faster and easier than ever.
Complete transcription quickly and accurately with no voice training required even for third-party speakers
Transcribe another single speaker's voice from pre-recorded audio files or from podcasts
Get a head start as you review or correct your transcription results with automatic application of basic punctuation that are not dictated
Save time and eliminate reliance on costly transcription services
RAM: Minimum 4GB
CPU: Intel® dual core or equivalent AMD processor. Faster processors yield faster performance.
Free hard disk space: 8GB
Supported Operating Systems: Windows 7, 8.1, 10 (32- and 64-bit); Windows Server 2008 R2 & 2012 R2
Internet Explorer 11 or higher or the current version of Chrome for Online Help
A sound card supporting 16-bit recording
An Internet connection for product download and automatic product activation (a quick anonymous process)
Note: Does not support dictation into Electronic Medical Record (EMR) systems. For EMR support, please use Dragon Medical Practice Edition.
---
Dragon will never leave you speechless.