Enhance the educational experience
Dragon Speech Recognition software transforms the classroom, helps students, and teachers, express themselves and most importantly achieve new levels of success.


Top educational features
Help students realize their full potential
For students who struggle with writing, Dragon changes all that. It lets students express themselves simply by talking. Typing and spelling concerns no longer get in the way and slow them down.
Pricing to fit your needs
The Open License Program (OLP)
The OLP is a public volume license program available to all qualified K‑12 and HED organizations, offers significant education discounts.
The Dragon K‑12 School License Program
Allows schools to install Dragon Professional on up to 250 school-owned or school-leased computers at a single location. The single-site program designed exclusively for K‑12 schools offers both value and flexibility.
The Dragon Academic Lab Pack
Ideal for schools considering Dragon deployments in computer labs or specific classrooms. There are two levels to choose from—five (5) licenses of Dragon Professional or 20 licenses of Dragon Professional with the necessary software media.
View this webinar to discover how the use of speech recognition technology can help you and your students maximize their learning potential.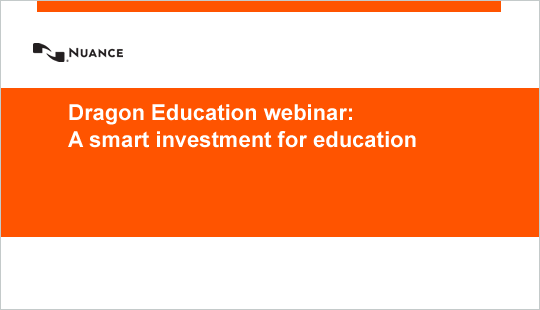 Why attend this webinar?
Learn how speech recognition helps students jumpstart the writing process
Understand how addressing students' technology needs can help teachers be more effective, in addition to increasing their own productivity
Fill out the form and view the on-demand webinar.
Mobile documentation
Get paperwork done anywhere
With Dragon Anywhere, our cloud-based, professional-grade mobile dictation solution, it's easy to get paperwork done away from your desk. Dictate documents of any length, easily edit, adjust formatting, and quickly share them via email or popular cloud-sharing apps right from your iOS or Android smartphone or tablet
Dragon will never leave you speechless.

Product comparison
Learn which product is right for you and your educational institution
Customer or tech support
Find the answers to your product questions
Talk to us about transforming your educational institution with speech recognition.
Call 866-748-9536 for more details and pricing.