Powerful transcription that's ready for work
If you're a mobile professional—or anyone on the go—who relies on a digital voice recorder or smartphone to capture notes and memos, use Dragon's robust transcription features to turn your recordings into text quickly, easily and accurately. Dragon can even transcribe another single speaker's voice from pre‑recorded audio files or from podcasts to maximize flexibility and drive productivity.
Capture thoughts anytime, anywhere
Dragon goes where you go
The best ideas are often lost unless you capture them while they're still fresh in your mind. Using a digital voice recorder and Dragon, capture thoughts—even on the go—for automatic transcription.
Easily transform your voice files into text
Transfer your single‑speaker recorded audio files to your PC or Mac to generate a written transcript using Dragon. It's as easy as record, transfer and transcribe.
Speak your notes, memos and more
Record voice memos to transcribe later. Transform podcasts or the voice of a single speaker into written words. Dragon works the way you work.
Looking for a mobile dictation solution?
Choose to work with Dragon Anywhere on your mobile device (iOS or Android) for immediate, professional‑grade dictation wherever you go. Dragon gives you multiple options to work the way you want to optimize productivity away from your desk.
Features and benefits
Dragon transcription means business
There's no need to transcribe from scratch or rely on an outside service. Thousands of businesses use Dragon as a transcription solution to increase productivity and reduce transcription costs. Dragon's powerful transcription capabilities turn single‑speaker recorded audio files into transcribed documents—instantly and accurately.
Streamline transcription
Dragon's Auto‑Transcribe Folder Agent (ATFA) manages the flow of transcribed text and synchronized audio of digital voice recordings to streamline third-party review and correction. Just drag and drop any recorded audio files into the ATFA and they'll be automatically transcribed into text.
Gain efficiencies
Support staff can review a draft of a transcribed document instead of typing the whole document from scratch for faster, more efficient turnaround.
Increase productivity
Use a digital voice recorder or the Dragon Anywhere professional-grade mobile dictation solution, and dictate reports, notes or memos away from your desk or out in the field for later transcription using Dragon.
Meet our professional productivity solutions
Dragon Professional v16
Short‑cut repetitive steps and create accurate documentation 3x faster with robust, highly customizable speech recognition. Optimized for Windows 11, v16 increases productivity with an unmatched suite of functionality that cuts costs for individual professionals and large organizations.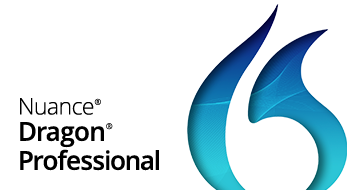 Dragon Legal v16
Customized for the legal industry and optimized for Windows 11 and Microsoft Office, Dragon Legal v16 delivers advanced speech recognition that empowers legal professionals to speed the creation of contracts, briefs, motions and other documentation, all while reducing transcription costs.