What to consider when moving to CCaaS
Contact Center as a Service (CCaaS) promises to bring new flexibility and cost reductions—but only if you can avoid the hidden pitfalls on your way to the cloud.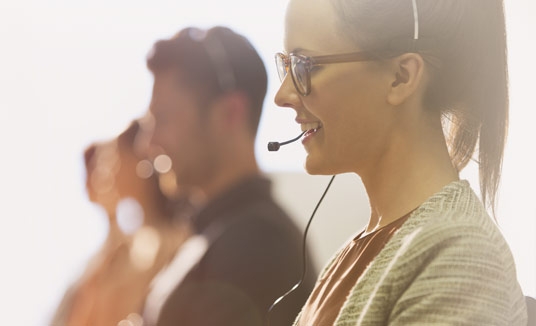 The hidden challenges of CCaaS
Modern contact centers generate significant business value, so any move to a CCaaS model must at least maintain—and ideally, improve—the benefits your contact center delivers today. It's no good losing hard-won customer satisfaction in the rush to the cloud.
But many brands find that migrating to CCaaS isn't as smooth as they hoped, interrupting customer service and reducing containment rates. Often, that's down to the need to rewrite existing apps for the cloud, losing years of learning and optimization in the process.
So, when you're moving to a cloud contact center, investment protection—and customer experience protection—should be front and center in your plans.
Key considerations for your CCaaS migration
To remove the risk from your CCaaS deployment, look for ways to make the most of your existing contact center investments.
Get maximum value from your existing IVR
If you can reuse and build on your current IVR and Natural Language Understanding (NLU) apps, and integrate them with your CCaaS platform, you'll reduce the time and cost of migration and shrink long‑term TCO—all without compromising the customer experience.
Keep your current CX performing smoothly
Even a 1% drop in call containment can lead to massive spikes in call volumes, creating headaches for your agents—and your cost line. When you've spent years optimizing your IVR and other customer engagement apps to perform at a high level, you don't want to throw that away. Work with a provider that can help you migrate successfully and has experience in deploying solutions at scale that deliver results.
Think about future portability
It's essential to seek out solutions that will help you futureproof your cloud contact center and protect your investments—and your CX—even if you decide to switch CCaaS providers. It's important to avoid setting up a new CCaaS platform or cloud contact center solution that locks you into one vendor. Look for cloud‑agnostic AI technology that can move with you and work on any platform, so you can deploy wherever and however you like, including on a third-party cloud, in a hybrid environment, or even on‑premises.
Evaluate CCaaS providers carefully
Not all CCaaS providers can deliver everything you need to match the customer engagement capabilities of your on‑premises infrastructure. Most CCaaS providers offer call routing, agent workforce management, and basic customer engagement tools. But many lack the advanced conversational AI that brands require to deliver automated and seamless omnichannel experiences.
Learn how to bring intelligence to your CCaaS
Get a quick overview of what Contact Center as a Service is and the benefits it should deliver—if it's done right.
Contact center automation is one the thing. But contact center intelligence? That's a whole different ballgame. Find out what it takes to create a high‑performing AI contact center.
Learn how Nuance Contact Center AI adds an intelligent engagement layer to your CCaaS—bringing the power of our award‑winning AI for contact center solutions to any partner platform.
eBook
The Contact Center as a Service (CCaaS) evolution
As contact centers move to cloud based CCaaS models, AI will add the vital ingredient that delivers better joint customer and agent experiences. Download this eBook to unlock the benefits of the cloud and AI for your existing contact center investments.