Stop hiding your messaging capabilities
Integrate Google's Business Messages into the Nuance Intelligent Engagement Platform and make the experience more accessible. Instead of calling in, encourage customers to message directly within entry points from a variety of Google experiences, such as Google Search, Google Maps, and others.
Business to consumer messaging is easier
than ever
When customers are already engaged digitally, they may find it frustrating if they are forced to call in for further support—or worse, they could simply drop out entirely. Since many questions can be answered quickly and easily via a message, why not let the customers choose how to continue? A traditional call-in option may appeal to some but adding more messaging capabilities can help retain the digital consumer—and avoid unnecessary costs.
Google's Business Messages allows customers to find and message organizations right from within specific Google products as a natural and convenient extension of their search. By integrating this channel into the Nuance Intelligent Engagement Platform, organizations can convert this initial interest into productive customer engagements by promoting a more seamless overall experience.
Get our latest resources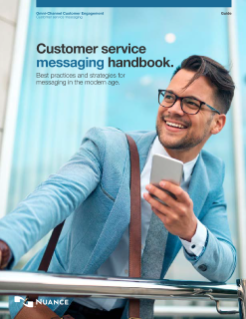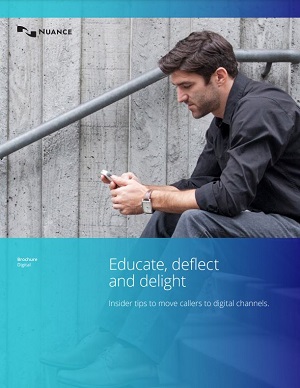 Educate, deflect and delight
Insider tips on helping customers discover the possibilities of your digital channels, both before and after they place a call.
Get it now

(pdf. Open a new window)
Features
Help customers explore the advantages of messaging
Offer more choice and control
Every year, contact centers receive billions of calls originating from Google applications. Adding an easily discoverable messaging option gives customers the ability to select their preferred channel which can significantly reduce an organization's overall call volume.
Provide engaging experiences
Messaging is more than just sending a text. With Google's Business Messages, enterprises have access to a rich set of capabilities to facilitate more productive and satisfying conversations. For example, with the integration into the Nuance Intelligent Engagement Platform, Rich Cards can be utilized to simplify a selection, provide all necessary information throughout the customer's journey, and efficiently guide the interaction to the best outcome.
Promote a consistent brand image
In channels that are not fully controlled by the organization it is important to ensure a consistent look and feel. Google's Business Messages enables enterprises to officially verify their business, add their logo, and ensure consistency across the messaging interface by providing a variety of customization options. All things that ensure customers feel at ease when communicating with the organization.
The Customer Service Dream—successfully moving calls to digital channels
Move your customers to a messaging experience they'll love. Watch our pro tips.
Customer Service Messaging
Create seamless customer and agent experiences
Inconsistency, silos, and broken experiences—no one wants any of this. By integrating Google's Business Messages into the Nuance Intelligent Engagement Platform, we support enterprises with a seamless experience across channels. And doing so provides a reliable and intuitive way to reach out to a business which earns organizations loyalty points with their customers.
On the customer's terms
Customers may want immediate answers, but sometimes they are the ones that need to step away. Allowing them to pause an inquiry at any time and continue it later reduces friction, promotes flexibility, and increases satisfaction. Combining real-time and asynchronous mechanisms offers customers access to immediate support, while ensuring that if they step away, the conversation can continue later without losing context.
Balance automation and live assistance
Virtual assistants and live chat agents are a powerful combination. Virtual assistants manage incoming customer inquiries and can resolve many upfront questions. However, if more support is needed, virtual assistants can direct these conversations to live agents best suited to meet their needs. Customers avoid long wait times and are transferred to agents who already have all relevant information to continue these interactions—no need to start over.
Increase agent efficiency
To predict customers' needs and provide superior customer service, agents rely on intuitive tools that equip them with relevant information, delivered in just the right moment. For example, the Agent Desktop highlights customer information, simplifies the authentication process, and provides next-best-action recommendations to increase agent satisfaction while reducing time to resolution.
Accelerate digital transformation
Nuance empowers enterprises to create engaging, conversational experiences—from intuitive tools that support sophisticated dialog design, to a flexible architecture that provides access to powerful APIs, hosted on a highly secure Intelligent Engagement Cloud.
Gain intelligent insights
Understand what your customer interactions really look like—across every channel—and gain clear, visual insights into trends, outliers, and opportunities. Armed with actionable insights, organizations can make fast, confident decisions to improve the customer experience and enhance contact center efficiency.
25+ years of experience
With more than 25 years of experience, Nuance has partnered with thousands of companies around the world to deliver intelligent customer engagement solutions using proven processes and tools that increase efficiency and quality to generate exceptional business results.