Advanced messaging without limitations
The future of messaging is here. Combine the reliability of SMS with rich graphics and intelligent communications to deliver the best customer service yet.
Upgrade SMS with an innovative alternative—Rich Communication Services
Rich Communications Services (RCS) is the new communication protocol for messaging between a carrier and a smartphone, enabling consumers all over the world to augment the way they engage with friends, family and businesses, while on‑the‑go.
Specific for messaging between organizations and their customers, RCS Business Messaging includes features like read and sent notifications, ability to add a logo and business name instead of just showing a phone number and other interactive options to convert simple text messages into a collaborative customer engagement channel.
RCS Business Messaging will be an integral part of the Nuance Customer Service Messaging solution, which enables organizations to converse with customers in digital channels, such as web, mobile, SMS, messaging, app, smart home speakers, etc, for inbound and outbound communication, utilizing automated and human‑assisted interactions.
Get our latest resources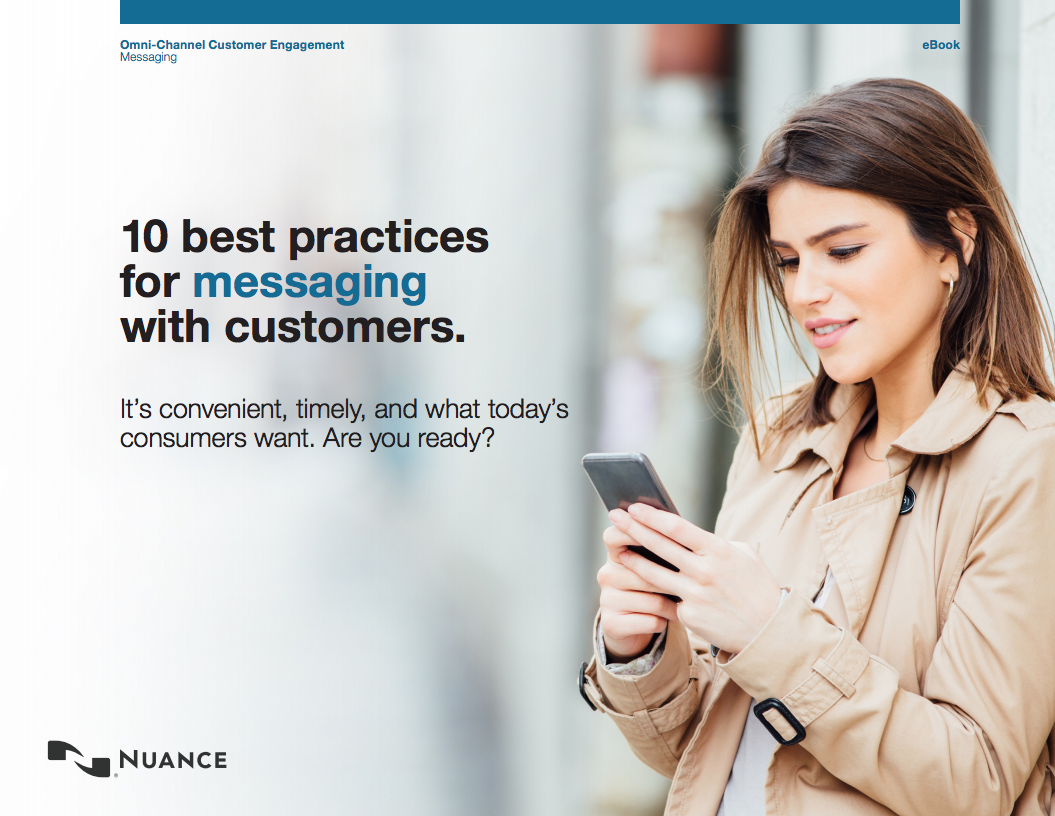 10 Best Practices for Messaging with Customers eBook
Read how, when customer service messaging is done right, it can seamlessly integrate into an omni-channel engagement strategy.
Get it now

(pdf. Open a new window)
What is RCS?
RCS is a global messaging standard, implemented by a variety of carriers already, with more carriers adding this service every day. Touted as the next generation of SMS, it includes a variety of features that will make it an engaging, interactive and efficient communication channel—even for organizations, thanks to RCS Business Messaging.
1‑to-1‑messaging
Consumers can send messages to friends and family, as well as businesses using simple text, emojis and more without the need to download an app. Convenient read notification and typing indicators help with staying on track, which is especially important for business communication as consumers always want to know when they'll receive an answer.
Proactive notifications
Organizations can send relevant and actionable notifications, reminders and ad-hoc messages for a seamless interaction, creating a delightful way of keeping your customers satisfied.
Content sharing
The ability to easily share photos and other multimedia content augments the way consumers can engage with businesses. Instead of describing what they see, they can simply snap a picture and send it. Customer service has never been so convenient.
Why messaging is important
55%+
of consumers prefer to use a form of messaging to communicate with companies.
80%
of consumers are expressing interest in RCS functionality and many claiming they would use it tomorrow.
70%
of respondents would be more likely to communicate with a brand using RCS Business Messaging.
One platform for all customer engagement needs
Watch how Nuance Customer Service Messaging enables you to engage with your customers on their terms.