Unify customer service to engage on all digital channels with one platform
Nuance Social Media Engagement enables brands to engage with consumers in social networks for always-on customer service across the entire journey.

Effortless social media engagement
Not only do consumers use social networks to connect with friends and family, they also use them to engage with the brands they love. Gartner estimates that 90% of businesses will use social media for customer service by 2020*.
Social media monitoring software allows brands to understand what consumers are talking about, but they create yet another silo within the digital customer engagement. Consumers don't think in channels and expect the same assistance anywhere, at any time.
Nuance Social Media Engagement broadens the reach of brands to listen to consumers in social channels, engage with them on their terms and seamlessly transfer conversations to any other channel as and when needed. Unified analytics augment the view of the customer journey and ensure that actionable insights can be implemented across a succesful omni-channel engagement.
*The Customer Experience in 2020
Get our latest resources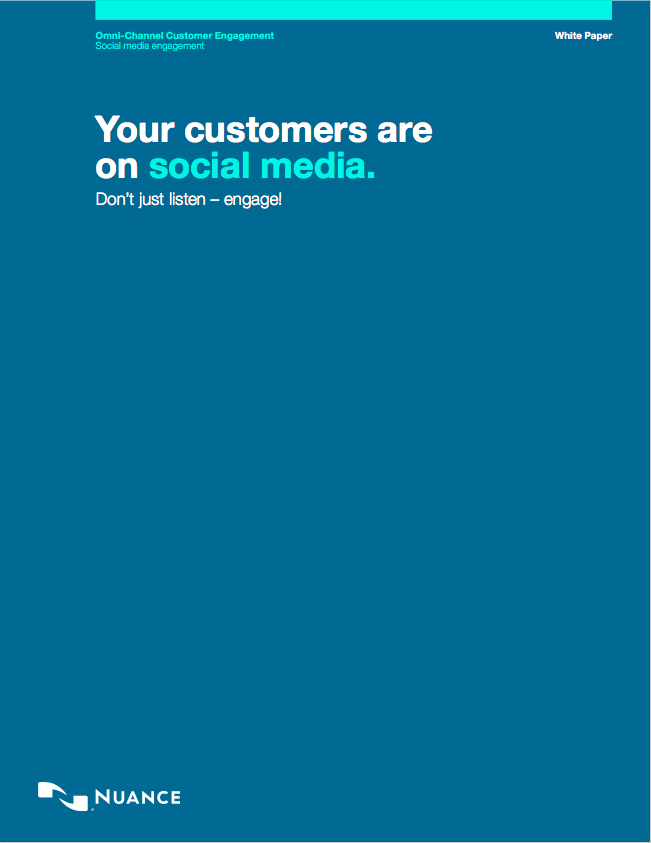 (pdf. Open a new window)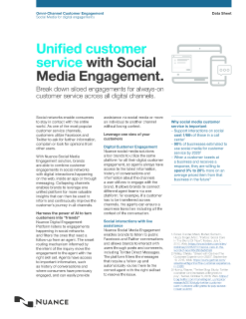 (pdf. Open a new window)
Seamless social media customer experience
With millions of conversations happening at the same time, it's important for social agents to keep up with the growing demand for timely and contextual assistance in social channels. Nuance social media solutions listen to and engage with interactions on social networks in an effortless and convenient way for the agent and for the consumer.
Augmented omni‑channel customer engagement
Unified reporting and analytics enable a much better overview of customer journeys. This allows meaningful and actionable insights to be leveraged for cross‑channel optimizations. It is crucial to be able to move conversations between channels, between departments and agent groups, without losing the context and without the need for customers to start over.
Intelligent routing based on artificial intelligence
Rules based on hashtags, mentions, and natural language understanding ensure that incoming inquiries are routed to the agent with the right skill set, resulting in immediate and personalized assistance. Conversations can also be routed intelligently and contextually to private or branded channels.
Reduce contact center costs
The Nuance Digital Customer Engagement Platform supports all digital channels across different departments to create a more efficient contact center. Leveraging agents across channels enables brands to reduce overall costs and reduce average handle times.
Solutions & technologies
Engage your customers with always‑on customer service
Digital customer engagement
Nuance social media monitoring solutions allow brands to utilize the same platform for all their digital customer engagement so live agents always have access to the latest information, history of conversations and information about the channels a user utilizes to engage with the brand. It allows brands to connect different agent teams via one platform. For example, if a customer has to be transferred across channels, the agents can ensure a seamless transition including all the context of the conversation.
Social interactions with live assistance
Nuance Social Media Engagement enables brands to listen to public Facebook and Twitter conversations and allows brands to interact with users through posts and comments, including Twitter Direct Messages. The platform filters the messages that require a follow up and automatically routes them to the correct agent with the right skillset to resolve the issue.
Artificial intelligence for an omni‑channel world
A combination of interpreting hashtags and mentions, checking for prior engagements and understanding the actual intent of the question allows our platform to intelligently decide where the incoming message should be routed.
---