Help your customers discover the joy of digital channels
Learn to seamlessly move customers from voice to web and messaging channels—reducing call volumes, while improving customer experience.

Educate, deflect and delight
You know that your digital channels often provide superior customer experiences—from faster responses, to faster resolutions. But do your customers?
When a customer's natural instinct is to call, helping them to discover the joy of digital can be a challenge.
But approach it in the right way, and you'll not only convert them to digital engagement, you'll delight them in the process—reducing your call volumes and increasing contact center efficiency.
Get our latest resources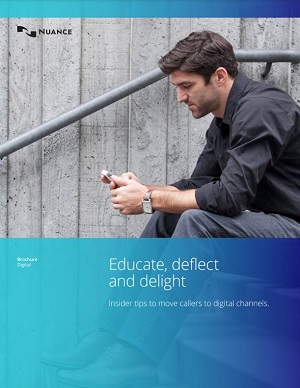 Insider tips on helping customers discover the delights of your digital channels, both before and after they place a call.
Get the guide
Benefits
Delight customers on digital channels
Today's best customer experiences? Often, they're on digital channels.
Whether it's messaging a brand like you're messaging a friend or resolving an issue faster with the help of a live agent—or a virtual assistant. At Nuance, we can help you serve every customer on the best possible channel. So satisfaction soars, and contact center costs fall.
Deliver seamless transitions from voice to digital
It doesn't matter how great the music is. No one actually enjoys being kept on hold.
Nuance voice-to-digital lets you seamlessly transition callers to digital channels, keeping the context of their conversation intact. They get a better experience, and a faster resolution—and your agents get to focus on the complex and high-value interactions that really demand a spoken conversation.
Use rules to automate inbound call-routing
Put the choice to switch channels in your customers' hands
Preserve contextual information across channels


Maximize messaging channel visibility
What's better than seamlessly moving callers to a digital channel? Helping your customers choose digital from the very start.
One way is to use the mobile ecosystem to your advantage (for example with Apple Business Chat or Google's Business Messages). You can make sure your customers are given the option to message you, whether they find your phone number through a web search, a maps application, or their phone's assistant.
If you already support live chat on your website, another easy win is supporting messaging through your brand app.
With the Nuance Intelligent Engagement Platform, this is as simple as adding an in-app chat channel, tweaking the conversation design, and creating a "Message Us" button.
Tangible ROI
The business case for moving customers to digital channels
A win-win
Deliver better CX and be more efficient
Today, every large enterprise needs the power to move customers seamlessly between voice and digital channels. It's the only way to make sure you're delivering the best possible customer experience, every time. And as you optimize engagement across all your channels, you'll also drive down your contact center costs and improve agent efficiency. It's a true win-win.
Two words: customer experience
In so many cases, digital channels can help customers get what they want more quickly and more easily. Because they spend less time waiting on hold. Because they're able to self-serve like never before. Because they can hold an ongoing service conversation around their daily routine.
All this translates into improved CSAT. Which, in turn, translates into greater customer loyalty and advocacy. We know this is true, because we're constantly helping brands to achieve it.
Two more words: increased efficiency
When you brighten your customer's day by meeting their needs in web and messaging channels through your live chat and virtual assistant, you also increase contact center efficiency.
Human agents have more time to focus on high value and complex interactions, since your virtual assistant is handling a greater proportion of inquiries. And thanks to the asynchronous nature of text-based communication, agents can even handle multiple conversations at once.
See how
Use messaging to
reduce call volume
Move your customers to a messaging experience they'll love. Watch our pro tips.
Want to learn how to delight your customers—while getting more from your digital channels?