Deliver exceptional results with extraordinary digital engagement
The Nuance digital customer engagement portfolio combines the best of virtual assistants and human‑assisted customer service engagements into one unified platform. So you can target the right visitor with the right message at the right time—across all digital channels.

Nuance Digital engagement solutions
Digital engagement solutions from Nuance allow you to meet your customers where they are. Nuance virtual assistants and chatbots provide conversational experiences that understand customer intent and predict what they need while maintaining context across conversations—making it easier to personalize assistance, speed resolution and deliver unique offers to increase revenue.
Digital engagement on the customer's terms
Whether your customers are savvy self‑servers or seek one‑on‑one chats with personalized assistance, Nuance Digital Engagement Platform fits their needs. We can help your business acquire, retain and serve all customers at all times.
Intelligent, automated offerings ensure your customers find answers quickly, instead of waiting in long phone queues while agent‑assisted interactions deliver personalized, relevant information for customers on any device, anywhere they go.
Deliver the best digital customer experience. Reduce contact center costs. Experience better conversion rates. Save time for your company—and your customers.
Get our latest resources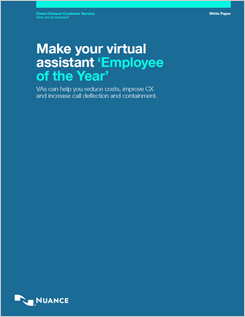 (pdf. Open a new window)
Insights and resources on how organizations can better manage customer engagement amid disruption—and beyond.
Visit the infohub
Nuance Earns Highest Rating in Opus Research's 2021 Enterprise Virtual Assistants Evaluation
Recognized for its unmatched omnichannel deployments, superior platform, and rich APIs, Nuance earns top spot and outpaces competitors for fourth consecutive year.
Engage your customers anywhere and anytime
Discover how the Nuance Digital Engagement Platform can help you increase revenue, reduce cost and deliver the best digital customer experience.
Actionable big data analytics, always
By making data instantly actionable and applicable, and working closely with your company, our professional business and analytics team ensures continual optimization and constant, custom improvement.
Solutions that go beyond software
There are no out‑of‑the‑box answers to individual business challenges. That's why we've developed solutions to meet your conversion and care goals in the most effective and efficient ways.
The people perspective
Site optimization is more than just technology and transactions. You need the best people armed with the best practices and a peerless knowledge of how to leverage and apply real‑time behavioral data. That's how to turn digital engagement into your advantage.
Risk‑free upfront investment
Before any engagement, we invest our time and resources to identify existing gaps and opportunities, showing how we can align our expertise with your operations to deliver optimum value.
Products
Better together, for your customers and for your brand
Nuance's virtual assistant enables an intelligent, human‑like dialogue between consumers and your brand. Nina can ask clarifying questions, understand consumer intent, personalize responses, support common social inquiries and seamlessly transition to chat agents while maintaining conversational context. All to help your business deliver a superior digital customer experience.
To reduce online abandonment, you must make it easy for visitors to contact a live chat agent. Nuance solutions evaluate visitor behavior in the digital channel so you can engage customers in their moment of need. Our live chat features intelligent queuing to reduce wait times, skills‑based routing to the most relevant agent and contextual transfer of all important information.
Nuance can help you create meaningful customer engagements by automatically reaching out and empowering customers to self‑serve‑before they contact you. Using advanced outbound digital capabilities and channel orchestration that leverage customer preferences, proactive notifications helps achieve desired business outcomes while also reducing operational costs and deflecting inbound calls from call center agents.
Features
A perfect customer experience starts here
Nuance digital engagement solutions can help your business deliver a seamless, user‑specific journey across all channels and devices.
Contextual omni‑channel journey
Consumers move between many channels during their journey with your brand. Make sure that journey is seamless. When switching from a TV ad to a mobile engagement, an IVR to text messaging, or even an automated to human‑assisted conversation, context must follow the entire omni‑channel engagement so your customers don't have to repeat themselves.
Effortless conversations
Effortless conversations require complete understanding. Our virtual assistant understands what your customers type or say, asks clarifying questions, supports common social responses and more. Agent scripts help live agents assist customers appropriately. Plus, with our co‑browse feature, consumers can share their browser view securely. In addition, the Nuance Prediction Service uses machine learning to project why customers engage before they reach you—allowing for an even smoother experience.
Branded experience
Our virtual assistant and live chat work better together. Integrate the two products into the same elegant, floating engagement window to maintain contact and context while personalizing the user experience to match your brand. You can also easily customize the positioning and perform A/B testing.
Business rule targeting
Our intelligent rules engine leverages real‑time analytics and business goals to choose between automated and human‑assisted engagements for each conversation—based on user behavior, profile and live agent availability. A single tag enables deployment and optimization across your digital channels.
Multi-device delivery
The Nuance platform enables you to create a superior automated or human‑assisted experience once and deploy it on any channel—desktop and mobile browsers, inside your app, via 3rd party messaging platforms such as Apple Business Chat and Google's Business Messages, via text messaging, social media or in third‑party messaging apps and even the TV. Smart decisions made by our underlying artificial intelligence technology allow your customer to connect with you on their channel of choice, making sure that they will receive the same quality of service at any time, no matter where they are.
Continuous learning loop
End‑to‑end visibility from virtual assistant to live chat conversations delivers unified reporting and Voice of the Customer insights, which allows for continuous enhancement of self‑service and agent‑assisted interactions, as well as conversion and resolution improvements.
Integrated reporting
We use comprehensive analytics from automated and human‑assisted engagements to measure and optimize your business KPI along the funnel. All to enhance interactions, drive revenue, reduce costs and increase user satisfaction.
Learn how the Nuance digital customer engagement portfolio can help you deliver extraordinary experiences—and exceptional results.