Proactive notifications produces better business results
Your customers and employees look to your business for proactive customer service. Nuance helps you deliver with orchestrated and automated engagements across text, voice, email and push channels.

The message is clear: Customers want to be notified
85% of consumers are interested in receiving proactive notifications, and an astounding 90% say they're more likely to do business with a company that sends reminders. That's where the Nuance proactive notifications platform comes in.
Nuance delivers a modern, flexible and multi-tenant cloud platform enabling orchestrated proactive notifications via SMS alert, email, interactive voice messaging and push notifications. Our solutions go far and beyond predictive dialers and allow you to inform and remind customers about appointments, payments, service updates and much more. And when crisis strikes, you'll be ready with ad‑hoc, one‑to‑many proactive notifications for critical situations—from unplanned outages to local emergencies.
Get our latest resources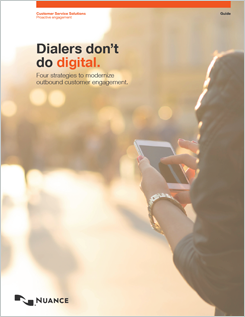 (pdf. Open a new window)
(pdf. Open a new window)
Modern proactive notifications in an omni‑channel world
Your customers seek effortless service experiences with your company. Watch how a health insurance provider can orchestrate outreach for members on their preferred channels—making it simple and secure to process an application, make premium payments and more.
Customer experience. Your customers want fast easy experiences when dealing with your company. They want you to anticipate their needs, remind them, and help them avoid potential issues: Modern outbound is the answer.
Grace Kent recently applied for dental and vision plans from her health insurance provider. Having set up her preferred method of contact, she receives outbound communications from the insurance company for an enhanced member experience.
Grace receives an automated voice notification about her application. This is Wellstay Healthcare calling. We need additional information to continue processing your application. Please go to WellstayOne.com, sign into your account, and provide the missing information. This is necessary to complete the application review process. If you've already provided the needed information, please disregard this message. Thank you for choosing Wellstay Healthcare.
Grace logs in and provides the missing information. A week later she is contacted to inform her that her application has been approved.
This is Wellstay Healthcare calling. If this is Grace Kent please say the following, at Wellstay Healthcare, my voice is my password. "At Wellstay Healthcare, my voice is my password. Hello Grace. Your application for dental and vision benefits has been approved. Your coverage is schedule, to take effect on June first. Your first premium payment is due in four days. Would you like to make your first premium payment now? No later. Would you like to receive a premium payment reminder call? No send me a text to this number. OK, you're all set. You'll receive a text soon that enables you to opt in to texting for this purpose. Thank you for choosing Wellstay Healthcare.
A few days later Grace is reminded that her payment is due through her preferred channel. The text prompts her to call Wellstay to process her payment.
Welcome to Wellstay Healthcare. Are you responding to the recent text message regarding a premium payment? Yes. Please provide your vocal password, at Wellstay Healthcare, my voice is my password. At Wellstay Healthcare, my voice is my password. The monthly premium due today is $75.07. To make this payment, would you like to use the credit card we have on file? Sure.
Modern Outbound – orchestrated outreach using the right channel at the right time. Personalized based on individual preferences. Actionable via their channel of choice. Inbound and outbound are connected to deliver fast and easy communications.
Enhanced customer engagement and experience
Nuance can help you create meaningful customer engagement by leveraging their customer preferences, advanced digital capabilities and channel orchestration.
Improved business results
By automating outreach and empowering customers to self-serve, you can achieve desired business outcomes while also reducing operational costs and deflecting inbound calls from call center agents.
Reduced operational risk
Nuance can help your organization reduce operational risks through robust compliance control functionality, industry-leading security certifications and a scalable, reliable and multi‑tenant SaaS infrastructure.
Stats
The results are in
Working with Nuance—and leveraging our proactive notifications platform—just plain works.
94%
eHealth saw a nearly 94% per‑message cost savings for customers who opted to receive text messages versus agent-handled calls.
67%
A major credit card provider increased call center agent productivity by 67% by using proactive communication for past-due payment reminders.
2X
CitiMortgage reduced the time it took to follow up on leads from their website from 38 to 3 minutes—and doubled their web lead conversion rates.
Solutions
Better together, for your customers and your brand
Features
Reach out to customers in the right way
One missed message or bad interaction is all it takes for a customer to lose faith in your brand. With Nuance, you'll send proactive notifications with confidence.
Cross-channel campaigns
Increase your reach by orchestrating proactive notifications across voice, text, email and push notifications, leveraging customer preferences to choose the right channel—at the right time—for superior results.
Customer Service Messaging
Nuance proactive notifications solutions feature the industry's most advanced text messaging offering. Our platform supports outbound two‑way messaging with Natural Language Understanding (NLU) and consumer‑initiated inbound text to landlines and 1‑800 numbers.
Contextually aware engagement
Inbound and outbound work better together. Connect your outbound application to inbound channels such as IVR and web‑based virtual assistants to streamline interactions and improve customer satisfaction.
Predictive proactive notifications
Use the Nuance Prediction Service to identify likely callers and then proactively notify them via SMS or email with relevant, useful assistance—and perhaps prevent a call altogether.
Learn how the Nuance proactive notifications platform enables your business to orchestrate outbound customer communications.