Show every member they matter
Meet members where they are, with intelligent omnichannel experiences that boost satisfaction and retention while reducing costs.
Transform member engagement with AI
Nuance member engagement solutions help healthcare payors radically increase automation and self‑service while delivering seamless, conversational experiences in every channel—increasing member enrollment, satisfaction, and retention.
With Nuance, payors can rely on intelligent omnichannel solutions backed by decades of healthcare experience and unmatched contact center and conversational AI expertise.
Benefits
Advance quality of service and care
Enable a seamless experience through conversational AI, digital engagement, and automation that helps you gain efficiencies and reduce costs.
Real‑world business outcomes
85%
virtual assistant issue resolution
86%+
live chat customer satisfaction
40%
reduction in average handle time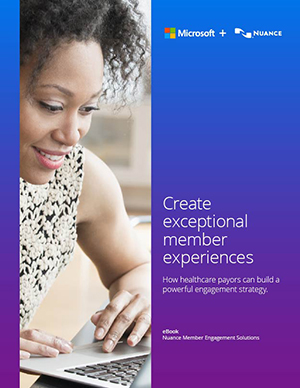 Create exceptional member experiences
Discover how healthcare payors can build a powerful engagement strategy.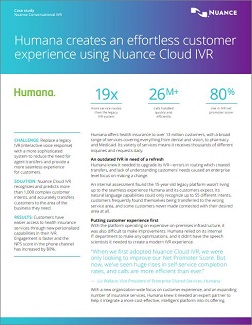 Fast, personalized self‑service
Humana creates an effortless customer experience with Nuance Conversational IVR in the cloud.
Start your member engagement transformation
Contact us to learn how you can deliver a better member experience with Nuance Conversational AI solutions.