Reduce missed appointments, boost acquisition and drive adherence
Deliver the seamless experience that consumers have come to expect from healthcare organizations, using Nuance omni‑channel engagement platform. All are enabled by digital, voice, outbound and biometric security product portfolios—powered by AI.

Improve the healthcare experience and lower operational costs
Nuance's omni‑channel customer engagement platform unifies every channel of communication your patients or members use. Nuance solutions give them the freedom to access care or customer service in the way that fits their life without the high costs of live agents or nurse interactions.
Patients now expect healthcare organizations to work with them in the same way their banks, airlines and other business relationships do. That means efficiently communicating with consumers through a variety of channels, on their terms, whenever they want.
And with the growth of the individual health plan market and the prominence of CAHPS and other satisfaction scores patient and member experience is more important than ever. Payers, providers and pharmacies are all looking for the intelligent self‑service technologies Nuance provides to 75% of the Fortune 100 to meet these needs while keeping operational costs down.
Get our latest resources
(pdf. Open a new window)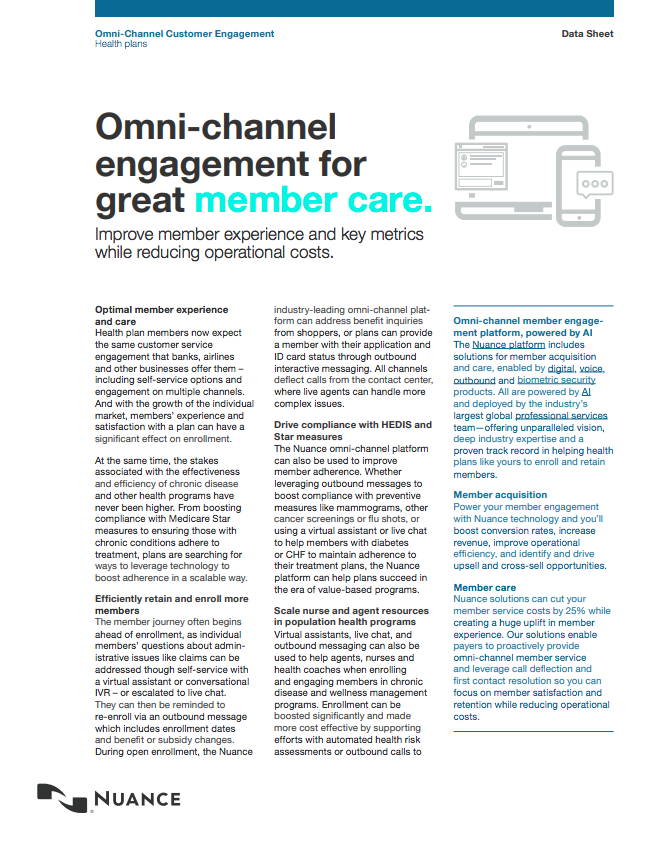 (pdf. Open a new window)
Deliver a world‑class experience powered by AI
Watch David connect with his healthcare provider using an IoT device to ask questions about his prescription and talk to a nurse about changing his diet.
Nuance, bring intelligence to life.
David is curious about a new medication he's on so he decides to ask his healthcare provider a question. My Wellstay Healthcare – Can I drink alcohol while taking Lipitor?
Sphere's systems combined with Nuance technologies and powered by artificial intelligence uses proprietary smart routing to determine which virtual assistant is best suited to address David's request. By simply asking a question, he's connected immediately to the most appropriate Sphere partner, in this case Wellstay Healthcare.
According to 'Everyday Health', drinking alcohol while taking Lipitor can raise triglyceride levels.
The virtual nurse gives the information he requested. He reviews it and decides he'd like to speak to a Wellstay nurse. I'd like to talk to a nurse about changing my diet and lowering my cholesterol. Hi David. Sure, let's work on that together.
Once David has confirmed his identity, the nurse pulls up his records and helps David set up a diet and exercise plan that'll help him achieve his healthy lifestyle goals. OK. You're all set. I'll also send you a copy to the email address we have on file. That'd be great, thanks.
Sphere and Nuance delivered an intuitive and seamless world‑class experience to David, powered by AI and enabled by digital, voice, outbound and security technologies. Your members and providers don't think about channels. They think about the many things they want to do, to experience or to accomplish.
They want to communicate and access information seamlessly from virtually anywhere, at any time, using any smart device –phones, TVs, speakers, cars, homes, and someday, smart cities – using their spoken or written words, or, a combination of both! Their choice, their needs, their connections.
Healthcare organizations can drive automation and enable these successful interactions through AI and the technologies that power them. Nuance solutions provide customized user interfaces for any device and any system. They deliver exceptional results through improved operational efficiencies and enhanced customer experiences.
Today, we step into the future. A connected future that engages us in innovative ways and anticipates and enlightens us through intelligent systems that are smarter, faster, scalable and easy to use.
Nuance, bring intelligence to life.
BCBS of Minnesota partners with Nuance to deliver service experience
Watch how Blue Cross and Blue Shield of Minnesota's vision for customer care and how Nuance is playing a critical role in defining their omni‑channel strategy and helping them deploy innovative and intuitive self‑service healthcare systems.
Blue Cross Blue Shield's vision for customer care really has changed over the last couple of years where customer care was almost a secondary thought process and is now becoming a primary thought process for Blue Cross Blue Shield now. The way we're attacking that is by offering our customers information at their convenience, anytime, anywhere, offering more information and relevant information.
As we move forward, it's important for Blue Cross Blue Shield to have our members and our customers be able to get access to data very effectively and in a timely manner.
Nuance has been a very critical part of our call center experience endeavors. We called Nuance Consulting approximately three years ago and they brought a team out to set our foundation to move forward with all other applications we are now deploying. So, anything from our multi‑channel strategy, inbound, outbound, mobility, and remote access, we had a team of people which is impressive to me as a leader in the IT side of the house. It wasn't just one individual consulting for us, it was actually seven or eight individuals that came out as a team event and each member of the team tackled each channel that we had questions on or a direction that needed to be fitted.
I think the benefits of working with Nuance has been the flexibility of the organization and the professionalism of the organization and most importantly the experience of the organization. We have a pretty technical team at Blue Cross Blue Shield of Minnesota and highly technical goals to accomplish and Nuance was not only a leader for us but also a partner with us. So as we developed a strategy internally, we could socialize it to the Nuance team and they would take it back and then give it back to us with a larger business strategy across our business organizations. We decided to partner with Nuance because of the agnostic style of their consulting as well as the breadth of experience of the consulting. Again, as call centers and contact centers move forward in this industry it's not just about a voice or web call, it's about a total collaboration of multi‑channels, anywhere from print, to mobility, to remote access, to a plethora of channels and the Nuance team really had, as we looked at consulting firms specifically, a much deeper understanding of cross‑channel functionality then any other consulting firm that we looked at.
Reduce missed appointments through real-time EHR integration and patients' channel of choice
Nuance uses a real-time EHR integration as well as mobile, outbound voice, text and email channels to confirm and reschedule appointments, create up‑to‑date wait lists for open slots, notify patients of availability, and keep patients informed of wait times. All with the goal to decrease no‑shows, improve provider utilization, reduce last‑minute cancellations and alleviate call center burden.
Improve acquisition and retention of members and patients
Whether a shopper is visiting your IVR or website for more information about benefits and provider networks, a member has questions about their ID card or claim, or a new patient is looking for an appropriate clinician and wants to immediately schedule an appointment, Nuance solutions can help. Through self‑service conversations using natural language in the IVR or virtual assistants with the capability to escalate to live chat, health consumers can get their inquiries addressed, containing calls or deflecting them from the contact center, where live agents can handle more complex issues.
Drive compliance with quality metrics and medications
The Nuance omni‑channel platform can also be used to improve adherence and help healthcare organizations succeed in the era of value‑based programs. Outbound messages can be leveraged to boost compliance with preventive screenings like mammograms or colonoscopies, or pharmacies and PBMs to boost medication compliance. Virtual assistants and live chat can help members with diabetes or CHF to maintain adherence to their treatment plans.
Stats
See how we stack up