Less churn, more revenue
Nuance telecommunications solutions enable telcos to increase automation, improve customer satisfaction and lifetime value, drive out costs, and protect every interaction.
Experiences that stand out—at the moments that matter
Nuance solutions empower leading telcos—including 9 of the top 10 global telcos*—to deliver seamless, effective, and secure experiences in voice and digital channels at any or all moments in the customer journey.
Our proven conversational AI solutions, backed by unparalleled professional services expertise, help telcos worldwide to improve customer satisfaction, reduce churn, and boost revenue—all while protecting the brand with advanced biometric security.
*Excluding China
Benefits
Deliver measurable business impact with proven AI solutions
Leading telcos use Nuance intelligent engagement and security solutions to create automated, personalized, and frictionless omnichannel customer experiences at scale.
Create easy, satisfying customer experiences
Deliver effortless, conversational engagements in every channel to differentiate your brand on customer experience instead of joining the race to the bottom on price. Offer personalized, proactive, and predictive service to improve NPS and CSAT scores, drive loyalty, and increase customer lifetime value. And provide effortless, voice‑enabled entertainment experiences with Dragon TV.
Eliminate authentication effort and prevent more fraud
Protect your customers and your brand from SIM swaps and other account fraud with intelligent fraud prevention solutions that authenticate people based on who they are, not what they know or something they have. Use multimodal biometric authentication to make it easier for customers to do business by facilitating secure self‑service across voice and digital channels.
Boost efficiency and shrink costs
Use our AI‑first approach to automate as much as possible and give agents AI‑based tools and insights that increase productivity, effectiveness, and job satisfaction. Continuously improve your operations by using omnichannel analytics to pinpoint the best areas for optimization that will help you drive down average handle time, reduce agent churn, and increase first contact resolution.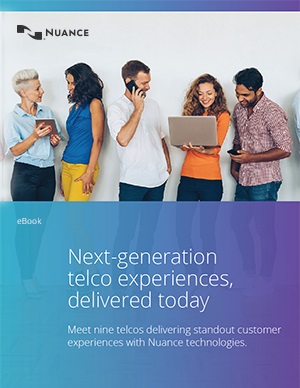 Next-generation telco experiences, delivered today
Meet nine leading telcos creating next‑generation customer experiences with intelligent AI.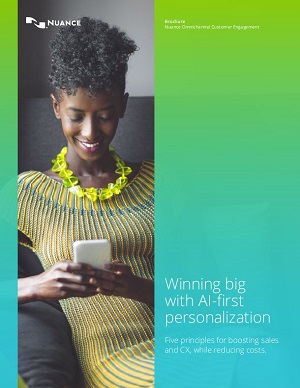 Winning big with AI-first personalization
Explore five personalization principles brands can employ to deliver experiences that meet and exceed customer expectations.
Real‑world business outcomes
$2.5M
annual fraud savings using voice biometrics
88%
containment in self‑service app
$3.8M
savings through just one digital channel at a tier one carrier
2.2B
transactions per month with Dragon TV