Better fraud prevention, all around.
Improve operational efficiency and increase revenue opportunities with Nuance's AI‑powered biometric solutions. Surround your organization with the intelligence necessary to enhance fraud detection, mitigate risks, and promote greater confidence and trust in your brand.
Opus Research: How to Thwart Fast‑Changing Fraud
The post-pandemic world has become a playground for identity thieves who make their living by exploiting security vulnerabilities in businesses. To help withstand the threat of fraudsters, organizations should employ holistic authentication and fraud detection solutions to simultaneously streamline authentication, strengthen security, and free up employees to focus on more-valuable work. The strongest defense against fraud is in applying both biometrics and AI in ways that build trust between companies and their customers while minimizing burdens on contact center agents and fraud investigators.
Get our latest resource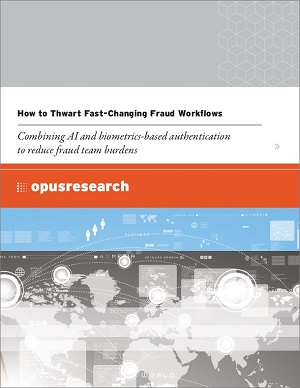 Fraud Bootcamp Virtual Series
Register now for this series of virtual fireside chats and educational sessions that will showcase how Nuance Gatekeeper can streamline and protect the customer journey whenever, wherever, and however they engage.
Register now
Virtual fireside chat series
Client insights and intel: Combating fraud to protect the business and their customers
See what you + Nuance can do
Empower your teams to operate more effectively and efficiently.
Discover how Nuance delivers AI-powered security—seamlessly and securely engaging customers and helping organizations fight fraud.
Learn how Nuance's advanced authentication and fraud prevention solution made it impossible for a fraudster to commit fraud through the contact center.
Explore Nuance's vision for a future filled with possibilities with intelligent technology to help organizations across all industries deliver the security and trust their customers expect.
Banking & financial institutions
Discover how we help increase fraud identification rates while preventing $500M+ in fraud losses within the first year.
Telecommunications
See how we help decrease average handling time by 89 seconds while increasing customer engagement.
Retail, healthcare, government & others
Learn how we help prevent over 4,000 fraud attempts, generating $7M in savings.
Tangible ROI
The Nuance difference
Comprehensive, layered solution across digital and voice channels.
90% detection of fraud attempts
Expertise in identifying fraudsters before they can commit fraud to prevent losses. Enables organizations to collaborate with law enforcement more effectively to put an end to fraudster activity.
AI-enabled intelligence
detection capabilities
Provides fourth-generation deep neural networks—leading to unrivaled authentication and fraud outcomes.
Learns from each interaction to continuously improve performance
The more a customer interacts with you, the better their performance gets.
Deeply integrated solution delivers optimized workflows and supports better collaboration across teams.
Let us help you advance security and fraud prevention in your organization
Complete the form below to schedule your demo today.