Better shopping experience, all around.
Reshaping the retail customer journey
Welcome to the Retail CX Resource Hub, your one‑stop shop for the best voice, digital and messaging content for retailers. Check out the latest videos, guides, on‑demand webinars and more to help take your customer experience to the next level.
Guide
Level up your retail CX with AI‑powered personalization
Will next‑level personalization delight your customers? Absolutely. But improving CX isn't the only reason to get more personal. Download our new guide today to learn 5 principles for successful personalization.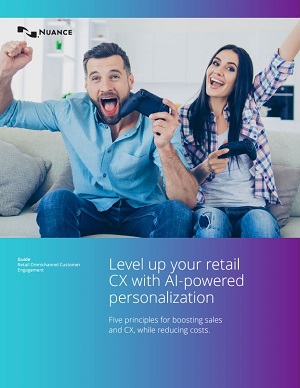 Nuance solutions for retail
Give your customers a simplified, seamless and secure shopping experience—everywhere—with AI‑powered solutions for retailers.
Forrester: The Total Economic Impact™ Of The Nuance Virtual Assistant
Discover how the Nuance Virtual Assistant provides advanced capabilities that create powerful business outcomes—delivering payback in less than six months and a 353% three‑year ROI.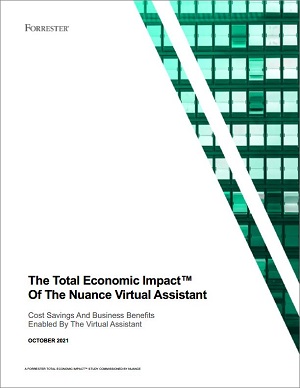 Solutions
AI-powered omnichannel customer engagement
Digital and messaging solutions
Put customers in control of the conversation—improving self‑service experiences, customer satisfaction scores, and operational efficiency.

Nuance AI‑powered digital and enterprise messaging solutions work together to streamline cross‑channel customer engagements and accelerate resolution times, so you can deliver the superior experiences your customers expect.
Voice and IVR solutions
Nuance voice and IVR solutions give customers natural, conversational experiences and effective, satisfying self‑service interactions.

Our Conversational IVR, Call Steering, and Dragon TV automate and personalize conversational customer engagements. And our Voice‑to‑Digital solutions use AI‑based self‑service and call deflection to move callers to less expensive, more convenient digital channels.
Contact Center AI
Explore Nuance award‑winning AI for contact center solutions for improved conversational customer engagements, biometric authentication, and agent efficiency.

Deploy industry‑specific AI solutions built on deep industry expertise and insights from billions of customer interactions. And protect your investment in existing customer service applications, wherever your cloud journey takes you, with easy portability and no need to rewrite.
Biometric authentication and intelligent fraud prevention
Improve experiences, reduce costs, and fight fraud with the latest in biometric verification and AI fraud prevention technologies.

With seamless, secure biometric authentication and intelligent fraud prevention through Nuance Gatekeeper, improve customer and agent experiences, reduce operational costs, prevent fraud, and protect your brand.
Better digital retail experiences, faster.
Speed deployment of a superior digital customer experience in as little as four weeks with Nuance Retail Essentials for chatbots and VAs. Using industry‑specific intents and proven experience, this AI‑based platform integrates with your data, enabling brands to provide personalized responses across any channel and the ability to escalate to live chat as needed.
Get the data sheet

(pdf. Open a new window)
Blogs
What's next in retail?