GPT‑enhanced functionality
Based on the Azure OpenAI Service, Nuance Mix Builder accelerates the creation of digital and voice bots, enabling developers to build when no historical chat data exists and non‑technical users to create using their own words. This speeds the time from ideation to prototype and testing to deployment.

It's an even more intuitive and faster way to take a bot idea from inception to production, while opening Mix's powerful capabilities to more users within the business, whatever their skills.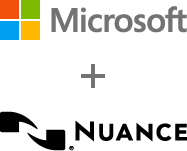 Sign up and stay informed
Sign up to become a Mix user. Once logged into Mix, join the waitlist for a preview of new Nuance Mix Builder.
Sign up for Mix

(Open a new window)