Protect and serve
Welcome to this quarter's edition of Nuance IQ. This time around we're looking at the growing role of AI technologies in contact center security and fraud prevention, showing how they can help brands protect their customers—and even serve them better.
We look at why a cross‑channel approach to fraud prevention is essential in today's fraud landscape and show how AI-powered biometrics technology can help take the fight to the fraudsters—all without impacting customer experience (and in fact bolstering it). Plus, be sure to join us for our exclusive webinar "The biometrics win‑win: How leading brands are beating fraud while improving CX."(Open a new window)
And don't forget to sign up to receive the Nuance Innovation Quarterly digital magazine, for more expert articles and fascinating insights into what's next for AI in customer engagement.
Webinar
The biometrics win‑win: How leading brands are beating fraud while improving CX
Join us for a live webinar on Tuesday, December 10th at 11am PT/2pm ET, where experts from our Security and Biometrics team will be discussing:
How fraud attempts are evolving—and why contact centers need to adapt to keep up
Why robust fraud prevention doesn't need to come at the cost of CX
Which contact center solutions combine the best of security and customer experience
And if you can't make it on the day, don't worry—you don't have to miss out. Register your interest and we'll send you an on-demand link, so you can catch up when you're ready.
Feature article
Taking the fight to the fraudsters on every channel—disrupt, defeat
Simon Marchand, Nuance's Chief Fraud Prevention Officer, looks at how the fraud battle lines are shifting—and how AI technologies can help businesses win the fight.
Every year, fraudsters cost the world's businesses billions of dollars. And while the direct financial losses may be easy to quantify, the indirect losses from damage to brand reputations and consumer trust can be harder to define—but they're still very real.
Fraud perpetrated through the contact center and other customer engagement channels too often ends up funding people trafficking, drug running or terrorist attacks. In the new world of criminal and terrorist networks working together across the dark web, businesses don't just have a responsibility to limit their losses; they must also play their part in helping protect all of us from the crimes that blight our society.
And one of the key things that can help businesses protect themselves, their customers and society in general, is a well-executed cross-channel fraud prevention strategy.
Fraudsters love new channels
For a fraudster, more channels mean more opportunities. While businesses have been busy adding digital channels to make engagements convenient and easy for customers, they've also made life easier for fraudsters. Criminals are getting very clever about using multiple channels to commit fraud, and a lack of cross‑channel fraud prevention strategies or capabilities makes it difficult to stop them.

Recent research by Forrester shows that "82% of firms agree that authentication across channels is increasingly critical to fraud prevention. Yet only 59% define their cross‑channel fraud prevention as nearly or fully optimized".1

Many companies reinforce one channel only to find fraudsters reappear on another channel that's less protected. Criminals will always search for the weakest link in the chain—and they're very adept at finding and exploiting it.

At a major UK bank we worked with, for example, the fraud team found that while the bank was getting lots of calls into its contact center from fraudsters, the actual fraud attempts were often being perpetrated on digital channels. Fraudsters were socially engineering contact center agents to get the information they needed to commit fraud on other channels.
The fraud supply chain
While developments such as chip‑and‑PIN, Verified by Visa, Mastercard SecureCode, and others have helped limit the impact of traditional transactional fraud, there's a new frontier that's less well protected: identity fraud.

The dark web now facilitates a fraud supply chain, connecting hacker groups that sell stolen PII and passwords to fraudster groups that use this information to generate income for broader criminal networks. And it's not just big data breaches like the Equifax incident (that will cost the credit reporting company up to $700 million in compensation payouts); many of us share all kinds of personal information on social media sites that are goldmines for fraudsters looking for social engineering opportunities.

As fraudster tactics get more sophisticated and they use digital technology to commit their crimes, it's clear that traditional methods of authentication and fraud prevention are becoming increasingly inadequate.
Detection is not enough
The trouble with passwords, PINs, and PII is they can all be stolen, making them unsuitable for authentication. (They also add friction for genuine customers.) Similarly, the technology and tools many companies rely on—like SMS for two‑factor authentication, or credit bureaus for customer identification—weren't designed for security.

Plus, the old tactics of waiting for risk identifiers and then reacting mean businesses are only detecting fraud (as well as a lot of false positives), they're not preventing it—and they're struggling to fight fraud on multiple fronts across channels. With fraud losses rising and growing regulatory pressure to clamp down on fraud, a new approach is needed. So, companies are looking at AI technologies to help them take a more preventative, cross-channel approach.
AI‑powered, cross‑channel fraud prevention
Using voice biometrics in the IVR and contact center means organizations can authenticate callers in the first few seconds of the interaction. They can quickly (and accurately) identify and terminate fraudulent interactions without waiting for risky behavior, minimizing risk exposure while also reducing customer and agent effort.

Combine voice biometrics with behavioral biometrics in digital channels, and a powerful cross‑channel defense starts to take shape. Behavioral and linguistics biometrics technologies recognize unusual or out‑of‑character online behavior and can then use step‑up authentication to verify the customer's identity with voice (by asking them to read a short sentence, for example).

When these biometrics technologies are integrated with existing fraud prevention strategies and capabilities, like anomaly detection and risk scoring, the result is a strategy that can stop fraudsters in their tracks, wherever they attack.
Time to collaborate—and disrupt the fraudsters
Biometrics technology goes beyond fraud detection to prevent many fraud attempts from happening in the first place, which means fewer incidents to report to regulators and fewer customers to inform about fraud on their accounts.

But perhaps more importantly, biometrics is taking the battle to the criminals, with evidence from contact centers helping law enforcement agencies bring to justice individuals and groups responsible for millions of dollars of losses.

Alongside collaborating with law enforcement, brands need to begin collaborating with each other, sharing biometric data to combat fraud together. No single organization can do it alone, but with the right technology, strategy, and collaboration, we can disrupt the fraud supply chain.


1Navigating the Omnichannel Fraud and Authentication Landscape, Forrester, June 2019
Innovation heroes
Deutsche Telekom delivers innovative customer experiences with Nuance Voice Biometrics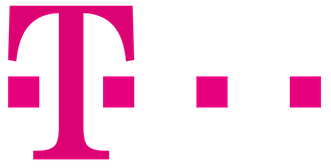 Deutsche Telekom, Europe's largest telecoms provider, became the first German company to adopt voice biometrics in its contact centers. Now, customers can simply speak to be authenticated, without having to remember a 10‑digit customer number.
Challenge
When customers contact businesses, one of the most frequent and frustrating stumbling blocks is the dreaded customer ID. Whether it's a password, an ID number or a secret answer to a challenge question, it's almost impossible for customers to remember every ID for every organization they deal with. Despite the difficulty of remembering a lengthy customer number, authenticating with a unique identifier has always been necessary to protect customer accounts and prevent fraud. Deutsche Telekom wanted to find a solution that offered customers a fast, seamless experience without making it more difficult for its contact center agents to authenticate who's calling.
Solution
Nuance Voice Biometrics uses more than 100 physical and behavioral characteristics, including accent, rhythm, and even the position or size of a person's larynx to create a unique voiceprint for each individual.

Deutsche Telekom are using this voice print to authenticate callers every time they get in touch—all they have to do is speak. By eliminating the complexity and time associated with customer ID verification, Deutsche Telekom isn't just improving the experience for the customer. Contact center agents now have more time to focus on helping customers with their queries, rather than spending time on outdated authentication processes.
Results
In just over three months, over 100,000 customers registered with the new service—and this shift is already paying off. Customer satisfaction has been boosted significantly, with 75% of voice biometrics users saying it's more convenient than using an ID number.

And as well as reducing friction in the customer service journey, Deutsche Telekom is also lowering its cost to serve and freeing up contact center agents to spend more time helping customers directly.
1st
German company to implement voice biometrics
200k
voiceprints registered within the first 5 months
75%
of customers say it's more convenient
What's new
Catching the innovation wave @Nuance
Nuance Gatekeeper
Nuance Gatekeeper brings together the most advanced biometrics technologies for authentication and fraud detection into a cloud‑native service. Gatekeeper combines voice, behavioral and conversational linguistics to give organizations more advanced layers of protection from fraud.
Nuance Cloud IVR
Nuance Cloud IVR is a cloud‑based conversational IVR that offers natural, intelligent and personalized experiences for customers. With increased flexibility, faster time to market and reduced operational expenses, Nuance Cloud IVR is an accessible way for organizations to access Nuance's leading conversational AI technologies.
Apple Business Chat integration
Apple recently announced a new capability for Apple Business Chat, called Chat Suggest. The new capability offers customers a range of alternative ways to contact the business they're talking to, and enables enterprises to deflect calls and move customers to the Messages app.
The magazine
Nuance Innovation Quarterly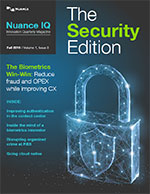 The next edition of Nuance Innovation Quarterly is here! In this issue, we take a deep dive into the world of security in the contact center and beyond.

Inside, you'll find tales from the pioneers on the frontlines of AI security innovation and stories from the organizations that are taking the fight to the fraudsters.

Read the latest issue now.

And be sure to subscribe below to get future issues sent straight to your inbox.
Past editions
Hungry for more innovation?
Explore our past editions for more ideas, insights and expert tips.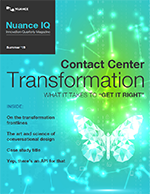 Discover why change is so important, and get expert tips on how to get it right.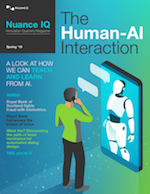 Learn why humans and AI are more effective when they work together.
Ready to take customer engagement to the next level?
Speak to one of our consultants to guide you on your own innovation journey.
Get in touch