Microsoft Digital Contact Center Platform
Microsoft and Nuance can help your organization provide exceptional customer connections while landing transformative outcomes. Our outcomes‑focused AI solutions help organizations deliver personalized customer experiences, improving agent productivity, safeguarding interactions, and optimizing agile operations.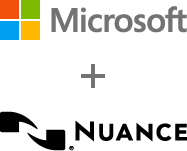 Bringing the power of AI to the contact center
Explore the Microsoft Digital Contact Center Platform—an open, extensible, and collaborative platform for delivering seamless, omnichannel customer engagement at scale—built with AI at its heart, powered by Nuance.
Enables omnichannel engagement and intelligent self‑service.
Increases customer acquisition and revenue.
Improves agent productivity and modernizes case management.
Personalizes and safeguards customer interactions.
Drives IT infrastructure simplicity, flexibility, and innovation.
Benefits
Exceptional engagement as the rule
Today's customers expect more engaging, personalized service experiences from the brands they choose. They want flexibility to engage on their channel of choice plus intelligent self‑service that offers always‑on digital convenience. And they expect agents, whether human or virtual, to not just know who they are, but to already have an idea why they are reaching out and how to help.
Engage your customers on the channel of their choice and provide the service options that will best meet their needs.
Seamlessly connect and personalize interactions to present solutions that customers want and make them feel instantly known and secure while protecting against fraud.
Make agents' work effortless
Let agents have their best day everyday by helping quickly resolve customer issues and open new revenue opportunities.
Run your business fast and lean
Cut costs with automation across a unified platform that plugs into systems you already know and innovate faster with tools and technology you already use.
Why Microsoft + Nuance
Higher quality, more efficiency, and greater cost and revenue impact for better outcomes.
Contact center solution breadth
Benefit from working with one vendor for CCaaS, UCaaS, CCAI, CPaaS, RPA, and CEC capabilities all available in one cloud platform.
Choose only the solutions you need from one vendor for a comprehensive, flexible contact center that reduces complexity.
Integration with leading contact center providers and 3rd party CRM solutions ensure flexibility for your organization. Customize applications to best meet your needs with no/low/pro code dev tools
Feel confident with leaders in security with $1B annual investment on cybersecurity; 8T threat signals analyzed daily; plus help from 8,500 in‑house security experts.
Extensive AI expertise managing billions of transactions annually including:
53B+ AI transactions per month
50B+ AI‑supported chats annually
8B+ biometric authentications per year
Extensive partner ecosystem
Partnerships with all major contact center infrastructure vendors ensure your contact center is supported by experts worldwide:
2,000+ AI experts
800 independent software vendors
1,000 systems integrators
Unmatched outcomes
The best outcomes are achieved through a single cloud infrastructure
80%
increase in Net Promoter Score (NPS) for customer service
$2B
saved annually with sophisticated fraud detection
50%
fewer agents needed through improved productivity

Unlock the new secret to customer loyalty
Watch the on‑demand webinar hosted by CRM Media with USAA to learn how USAA is delivering measurable outcomes to its 14M members across the globe with AI‑driven CX .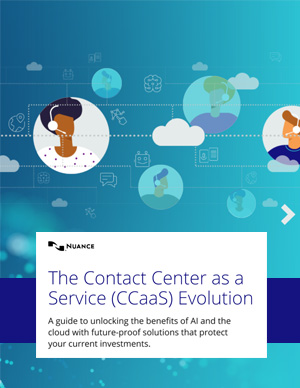 The Contact Center as a Service (CCaaS) evolution
As contact centers move to cloud based CCaaS models, AI will add the vital ingredient that delivers better joint customer and agent experiences. Explore how to unlock the benefits of the cloud and AI for your existing contact center investments.
Contact us
Discover how Nuance AI, Dynamics 365, and Microsoft Teams could shape the future of your contact center.
Blog series
The AI‑powered contact center