Don't miss any event
Nuance VoiceID isn't just the easiest way to register for Nuance events and get instant, up‑to‑date information about schedules and speakers. It's also the ideal opportunity to experiment with Nuance biometrics technology and move customer experience to the next level.
Say goodbye to pins, passwords and security questions— with voice biometrics, all you need is the power of speech.
My voice is my password
Repeat this sentence to login and register. It's that easy! Now you can access Nuance VoiceID and test our voice biometrics technology yourself.
Stay up to date with Nuance events
With the Nuance VoiceID app, you can register for any event using just your voice.
Once you're registered, you'll get instant access to everything from the location and timings to the agenda and speaker info. When it's time for your event, use your voice to check in and confirm your attendance, add your event to the calendar or get your QR code event pass.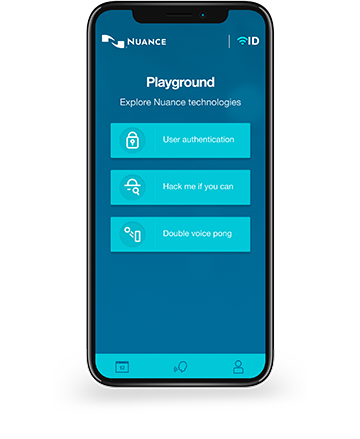 Try Nuance biometric technologies
Access the Nuance Playground and explore how easy, fast and secure is to authenticate yourself with voice biometrics compared with other traditional authentication methods such as PIN, passwords or security questions, get someone else to try and impersonate you or even try to get into our General Manager's bank account Brett Beranek!
Would you like to know more?
Please visit our security info hub center to learn more about our biometrics technology and get our latest resources, including case studies and customer testimonials about the experience with our technology in most of the leading multinational companies around the world.
https://www.nuance.com/omni-channel-customer-engagement/security.html
Would you like to get Nuance VoiceID?
To access the app you need a personal code. If you've been invited to a Nuance event, you will get your personal code instantly. If you didn't receive any invitation or your personal code, please contact us and we immediately get in touch with you.