Time to transform
Welcome to the second issue of Nuance IQ, your window into the world of AI‑powered innovation for customer engagement.
This quarter, we examine why contact center transformation is so crucial right now, and we look at some of the things you can do to enable and accelerate your own transformation. We also have an exclusive webinar with Forrester and Nuance experts, showing how you can avoid the four biggest contact center transformation pitfalls.
We hope you enjoy this new edition—we'd love to hear what you think, and get your ideas for future topics or stories, so let us know at cxexperts@nuance.com.
And if you haven't already, be sure to register for our digital magazine, Nuance Innovation Quarterly, to get more expert insights and inspirational tales from the companies and innovators on the frontlines of contact center transformation.
Webinar featuring guest Forrester Research
4 contact center transformation pitfalls (and how to avoid them)
As the summer edition of Nuance Innovation Quarterly is just around the corner, we're back with a new webinar. This time, we sat down with an expert from Forrester Research to learn why contact center transformation is vital to surviving in the digital age, and how to make yours a success.
The discussion with Ian and Nuance's own transformation experts will show you:

How to use conversational AI to create unique experiences for your customers
Why training your workforce to work side by side with technology is the key to success
How effective security, agent augmentation, and the cloud should fit into your transformation strategy
Plus, you'll learn about some organizations that have already undergone transformations, and the results they've achieved so far.
Feature article
The transformation imperative
By: Tony Lorentzen, GM & SVP, Intelligent Engagement, Nuance Enterprise
Right now, contact centers find themselves staring into a widening customer experience credibility gap.
A recent study by Frost & Sullivan revealed a startling disparity between customers' perceptions of the experiences they receive and companies' perceptions of the experiences they deliver. Just 3% of consumers said they're never frustrated with customer care, but 90% of contact center mangers say their agents are doing a good job.
It's clear that brands are failing to meet customers' expectations—and transforming the contact center is now more urgent than ever.
Customers expect more than they're currently getting.
They're not willing to tolerate the frustrating, disjointed experiences of the past—they want connected, intelligent experiences, regardless of how they choose to engage with your brand. Customers don't view their interactions with your business as multiple experiences; they see them as one experience, and they expect them to feel seamless.

More than that, they expect you to know who they are and what they want to accomplish (without having to repeat it every time they transfer between channels or agents), so they get an effortless, personalized experience and a fast resolution.

To increase customer retention and lifetime value, contact centers need to invest in continuous, customer-centric digital transformation. And these initiatives can have a significant impact—on the customer experience and on your bottom line. Just ask the 91.6% of companies that saw an increase in customer loyalty after a digital transformation. Or the 84.4% that experienced increased revenue as a result of transforming1.
It's an evolution, but it's still revolutionary
Every contact center transformation looks different; it all depends on where you start. But wherever you start from, it's an evolution. It's an ongoing series of optimizations and technology deployments that, among other things, help increase agent utilization and performance, and improve the customer experience.

Whether it's adding chat or a virtual assistant to a traditional call center, or implementing omni-channel predictive conversational experiences, all digital transformations are major undertakings. But there are a few success factors they all have in common…

1: Understand what you want to achieve
Before you start looking at tech solutions, you need to identify the specific part of the customer experience gap that you want to bridge.

That means assessing the current state of your customer experience to understand why customers contact your business, what they expect from those engagements, and where they're experiencing the biggest frustrations. It also means analyzing agent performance and behavior, as well as underlying business processes, to reveal the best opportunities to optimize, innovate, and transform.

And the results of your investigations might not always be what you're expecting. For example, one company we worked with thought that the reason it had such high agent-to-agent transfer rates was poor agent compliance with its protocols. But after analyzing thousands of call transcripts it became clear that one of the biggest factors was actually that customers were failing to authenticate in the IVR. That's a simple, actionable insight into a major source of unnecessary costs and customer frustration—and an easy target for optimization.

Of course, you'll need to do a lot of information gathering before you can get started on optimizing your operations—but it doesn't stop there. It's important to keep gathering key information so you can assess whether your transformation journey is headed in the right direction and delivering the results you're looking for.

2: Get leadership support and business alignment
Transformation isn't just a short-term investment; it's a long-term mindset. It's essential to have leadership buy-in from the start. It helps ensure those short-term investments are made, and it's essential for driving what can be major cultural shifts toward great customer-centricity, cross-functional collaboration, and increased risk-taking.

Communication and alignment between the business, contact center operations, and IT are also vital. Everyone always needs to be on the same page—which requires high-level governance—and frontline staff must be trained and ready when new systems and initiatives go live.

You'll also need to plan for the ongoing governance of your transformation program, appointing a group of senior leaders who are customer-focused and willing to take calculated risks to enable innovation. Leadership buy-in must extend beyond the launch of the program and continue into the future with continuous communication of your plans, goals, and achievements at all levels of the business.

3: Plan for ongoing oversight and continuous coaching
Continually optimizing agent performance is a critical part of contact center transformation. Of the consumers surveyed by Frost & Sullivan, only three out of 10 said they always feel cared for by the agent. And only four out of 10 always feel as though the agent is listening to them.

Clearly there's a lot of room for improvement, and analytics tools and AI technologies can help by enabling you to identify best practices and training opportunities. More advanced contact centers even use AI-powered analytics to give managers real-time insight into agent performance and compliance, script adherence, and customer satisfaction, so they can provide highly targeted coaching wherever it's needed.

Automating performance monitoring means that, instead of manually listening to a handful of calls for each agent each month, you can identify previously unseen trends, issues, and training opportunities by assessing every call automatically. Aside from the agent performance optimization benefits, the cost savings can be huge—one company we worked with had 500 people just listening to calls and filling out scorecards. That's a compelling opportunity for automation.

And speaking of automation, it's not just agents that require ongoing oversight—it's also important to continually monitor, assess, and optimize your IVR and virtual assistant (VA). Analyzing the factors behind VA-to-agent transfers, for example, can help you identify new opportunities to improve your self-service offering for specific customer journeys. And experienced agents can be invaluable for tagging call transcripts so that conversational AI systems can develop their understanding of customer intents.
Start small, think big
It can be easy to become overwhelmed by the enormous possibilities that digital innovations offer for contact centers. But whatever your own transformation looks like, it's important to take it in bitesize pieces—fix one part of the customer experience and then grow your capabilities from there.

And remember that transformation never stops. It's a continuous process of optimization that involves constantly looking at your operations and asking questions like:

— How can we be more effective in the most cost-effective way? And how will we measure our success?
— What new tools, processes, and delivery mechanisms do we need to bridge the customer experience gap?
— Are we achieving the goals we set for our transformation initiatives?
— Do we need to adjust our approach or pivot to a new one?
It's by finding the answers to those questions—and regularly analyzing your progress—that you can deliver great experiences at the lowest cost to serve. And that's what will turn your contact center from a cost of doing business into an important profit driver.
1The Evolution of Customer Experience: A Look Ahead to 2020,Dimension Data, 2018
Innovation heroes
One of the UK's largest retailers transforms digital customer engagement with Nuance Virtual Assistant
A leading UK retailer enhanced its customer experience to support increased contact volumes and free up agents' time. Customers now get fast solutions to common problems, and agents get more time to spend on unique cases.
Customer: A major UK retailer
Challenge: As one of the UK's largest retailers, this company gets thousands of visitors to its online store every day. With an existing live chat solution in place, customers were able to speak to live agents about any issues they were having during their shopping experience.

But as contact volumes continued to rise, the digital team noticed that many customers were experiencing similar problems—including incorrect promotional code entries, returns and refund issues, and loyalty card difficulties. The retailer knew it had an opportunity to save its agents time, while still providing customers with solutions to their problems.
Solution: After choosing Nuance as its partner, the retailer was ready to embed Nuance Virtual Assistant into its live chat almost immediately.

The digital team worked closely with Nuance to identify key questions customers were asking. Once identified, the team used existing transcripts from the retailer's live chat deployment to create decision trees for certain scenarios.

Now, when a customer experiences a promotional code issue, a chat window automatically appears and a conversation with the virtual assistant starts. And if the VA can't solve the customer's problem, it can seamlessly transfer them to a live agent.
Results: Since the retailer integrated the VA into its website in September 2017, it has had more than 250,000 interactions—and 70% of issues have been resolved without the need for human involvement.

The service is currently live across five customer journeys, and it's triggered when a customer experiences a problem. And since its launch, the service has saved over £2m of online sales that the company might overwise have lost.

Following the success of the virtual assistant, the retailer plans to extend it even further across the website, as well as onto other platforms, including Apple Business Chat, WhatsApp, Facebook Messenger, and SMS.
"We treat the virtual assistant just like an agent. We train it, manage its performance, and it works as one of the team. We're starting to see a lot of value from that."

— Business Solutions Manager for Retail, large UK retailer
58% of cases resolved by the virtual assistant alone
250,000+ customer interactions with the virtual assistant in less than two years
£2M saved in online sales due to virtual assistant interactions
What's new
Catching the innovation wave @Nuance
Agent Coach
Nuance Agent Coach provides experience-based guidance to live agents in real time. By offering proactive prompts and recommendations, Agent Coach can help reduce waiting times, boost resolutions and conversions, and ensure every agent is delivering a consistent brand experience.
Lightning Engine
The Nuance Lightning Engine combines voice biometrics and natural language understanding (NLU) to understand who is talking and what they want almost instantly, with no need for a passphrase. Customers simply speak naturally and the engine validates their identity in less than half a second and immediately begins delivering a personalized interaction.
Dragon TV
For eight years, Dragon TV has been enabling TV service providers to offer viewers voice-enabled search and navigation of channels and content. Now, we've taken things a step further, by embedding the latest Nuance AI technologies into Dragon TV, enabling personalized content delivery, smart-home integration, secure account-related transactions, and a whole lot more.
The magazine
Nuance Innovation Quarterly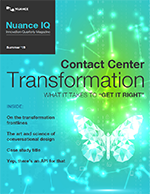 The summer edition of Nuance Innovation Quarterly is here!

This month we take a deep dive into contact center transformation—looking at why it's essential right now, and key tips for creating an effective strategy.
Check it out here.

Register now to get the future edition sent straight to your inbox.
Past editions
It's never too late to get past Nuance IQ insights!
While you're waiting for the summer edition of Nuance Innovation Quarterly magazine, take a look at our debut issue—all about the human-AI interaction.

View the Spring 2019 infohub, webinar and digital magazine to learn:
—Why humans and AI are more effective when they work together
—The step-by-step process we take to turn ideas into innovative products
—How three organizations are leading the way with AI-powered customer service
Ready to take customer engagement to the next level?
Speak to one of our consultants to guide you on your own innovation journey.
Get in touch