The wait is over: Improve patient engagement and communication
Ready to see fewer no‑shows, deeper patient engagement and greater ROI? It's time to rethink appointment management.

Improve patient experience while reducing operational costs
On average, 13% of patients do not show up for their appointments, 30% of clinician time goes unused and 50% of canceled appointments can be rescheduled with an automated system. All these trends significantly impact physicians and their practices.
For more than 20 years, Nuance has powered customer engagement solutions including appointment, billing and payment reminders, across major industries, including healthcare, banking and transportation, helping Fortune 500 companies attract and retain their customers through AI‑enabled digital, voice, outbound and biometric security products.
Nuance Appointment Management solutions help healthcare organizations by automating the appointment management processes while meeting your patients' and physicians' expectations.
Get our latest resources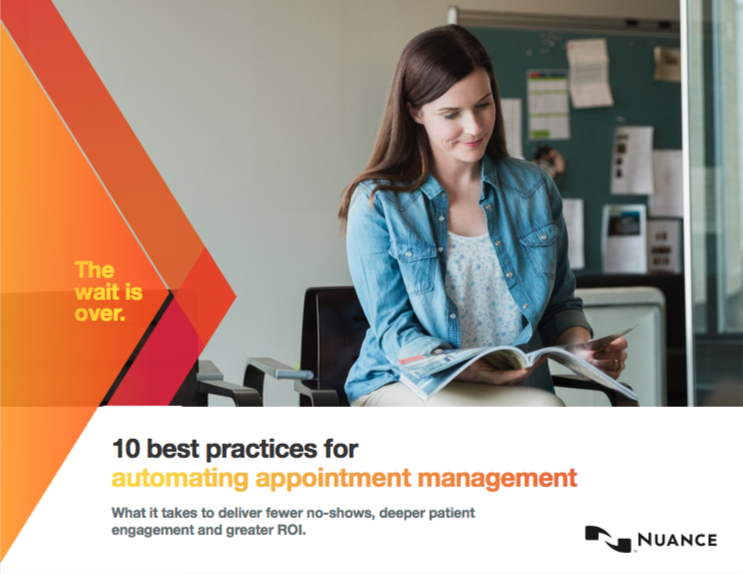 (pdf)
(pdf. Open a new window)
Reaching your customers where they want
Nuance Appointment Management solutions enhance the customer experience while reducing no-shows. See how your healthcare organization can proactively reach your patients to confirm, reschedule and more.
Nuance, bring intelligence to life.
Consumers today expect to engage the companies they do business with quickly and easily, through the channels they prefer. Your patients are no different.
The Nuance Appointment Management solution engages with patients through voice, text and email channels to provide appointment reminders, rescheduling, wait‑listing and special instructions for procedures that require preparation. Messages can be personalized with the patient, doctor and clinic name and use natural language understanding to respond automatically to patient requests.
In this example, Sonia had previously scheduled her annual exam after her last doctor's visit. She receives a proactive notification by phone reminding her of her upcoming appointment. Let's watch as Sonia is easily able to reschedule her appointment using the Nuance Appointment Management solution.
This is Nuance Healthcare. Have we reached Sonia Chan? Yes. This is a reminder of your upcoming appointment with Dr. John Smith for your annual exam on Friday, August 25th at 10 AM. Are you still able to make this appointment? No, I can't make it anymore. Ok, we can reschedule you now. Just say the date and time you'd like for your appointment. Ummm, how about September 6th, 7th, or 8th in the mornings. The earliest available appointment is Wednesday, September 13th at 10 AM. Would you like to schedule this? It's a little later than I wanted, but sure.
OK, we've scheduled your appointment for Wednesday, September 13th at 10AM. Would you like us to let you know if an earlier appointment becomes available? Yes, that would be great. Ok you're scheduled for Wednesday, September 13th at 10 AM and we've put you on the waitlist for an earlier appointment. If you have any questions about your appointment or have general questions please give us a call at 857‑902‑1400. Have a nice day. Good‑bye! Sonia was able to quickly and easily reschedule her appointment through enhanced patient engagement.
It is now August 25th and an earlier appointment has become available.
This is Nuance Healthcare. Have we reached Sonia Chan? Yup. You are currently scheduled to see Dr. John Smith on Wednesday, September 13th at 10 AM for your annual exam. We have an earlier appointment available with Dr. John Smith on Wednesday, September 6th at 9 AM. Would you like to schedule the earlier appointment on Wednesday, September 6th and 9 AM? Yes, that would be great. Thanks. We have rescheduled you for Wednesday, September 6th at 9 AM. We look forward to seeing you. Good‑bye!
A day before her appointment, Sonia receives a reminder text message. She has a conflict and can't make this appointment so she reschedules using Nuance's Conversational Text messaging. APT REMINDER: You have an appointment with Dr. Smith on Wed, Sept 6 at 9AM. Can you make this appointment? Sorry can't make it. We have appts available on 9/26 at 10AM, 10:30AM and 9/27 at 9AM, 9:30AM. Which time works for you? 9/26 at 10:30am. Your appointment with Dr. Smith is confirmed for Tue, Sept 26 at 10:30AM. Please call us at 857‑902‑1400 if you have questions.
This demonstration has illustrated the power of combining omnichannel communication with Natural Language Understanding to manage a business process that in the past, would have required multiple conversations with expensive contact center resources. Thanks to the Nuance Appointment Management solution, the patient was provided with a smart, efficient and personalized interaction. The automated system was helpful from the moment it connected with the patient, sending convenient reminders and processing appointment updates while providing an exceptional customer experience.
Automate routine tasks
Appointment management enables your patients to confirm and reschedule appointments in real time, thus alleviating the burden from your call centers, helping to reduce operational costs.
Reduce inbound calls
Proactively reach out to customers at the right time, with the right information and in the right way. Through appointment reminder scripts and self-service options customers can act on, you'll reduce your inbound call rate.
One size fits nobody
Omni-channel appointment management enables patients to manage their appointments when they want and through their preferred channel—from mobile phones to email to live voice.
$15B
Cost of no-shows to the US healthcare system
30%
of young adults prefer texts for reminders but only 18% of providers use text messaging
25%
A Baldrige award‑winning organization reduced missed appointments by 25% with proactive communications, resulting in annual savings of $2.5 million. Get the case study.
Automatic appointment reminders
Your customers want to make their appointments. Automated appointment reminders significantly decrease patient no‑shows, which can cost the average hospital up to $3 million annually.
Automate phone calls, emails, text messages and in‑app
Simple to set up and simple to use and report. Nuance appointment reminder solutions use all latest communication technology to engage with the customer in their preferred mode.
Real‑time appointment rescheduling
Nuance appointment management tightly integrates with your Electronic Health Record (EHR) system to provide up to the minute schedules so that patients can fill in your gaps in real time.
Case in point: An award‑winning provider cuts no‑shows to 3%
With more than 1 million clinic visits annually and nearly 2 million calls into its contact center, patient engagement was a big (and daunting) task for this large Malcom Baldrige National Award winning provider. Their existing appointment reminder solution—which primarily delivered lackluster, unengaging robocalls—was unsophisticated and unreliable.

Once they replaced it with a modern appointment management solution that engages patients through an orchestrated mix of text, voice, email and smartphone push notifications, the results were immediate and ongoing.
Get the case study.
25%
reduction in the no‑show rate in the first 3 months – with no‑show rates dropping to just 3%
75%
reduction in live agent costs after starting to use the system to encourage patients to schedule cancer screenings and other services
$2.3M
in recaptured revenue, thanks to real‑time integration with other systems that allow canceled appointments to be freed up for rebooking