Keep your customers in the know
The Nuance inform and remind product proactively engages your customers and patients across channels with alerts, notifications and reminders. All to encourage desired actions – and enhance your relationship.

A friendly reminder that drives consumer action
Sometimes, a little nudge goes a long way. In a recent study, consumers said that receiving proactive alerts, billing reminders or notifications could have helped them avoid an issue like incomplete forms, expired credentials and missed deliveries or appointments. In fact, these same consumers claim they would call customer service if a company did not proactively reach out about an issue.
Enter the Nuance proactive notification platform's inform and remind notification system, which enables you to orchestrate outreach using interactive voice response and SMS alerts, email and push notifications. The cloud‑based platform reduces inbound operational costs through call deflection—all while increasing the likelihood that your customers will take that next step.
Get our latest resources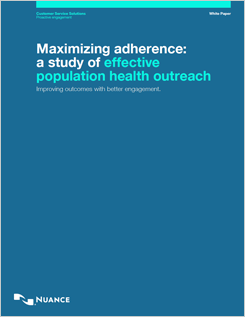 (pdf. Open a new window)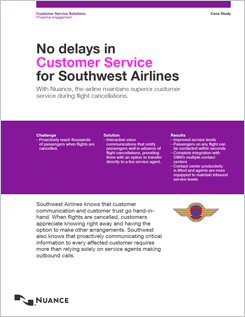 (pdf. Open a new window)
Hear from Nuance experts how proactive notifications is more than just Outbound
Cost-effective engagements
Boost the impact of your customer service engagements by cost‑effectively reaching more customers and guiding them toward self‑service or smartphone interactions, thus reducing your need for agent‑based outbound phone calls and postal mail follow‑ups.
Optimized customer experiences
Leverage customer preferences, advanced digital capabilities and channel orchestration to anticipate customer needs about upcoming events with your company. By optimizing the experience, you'll strengthen customer loyalty and drive market share.
Reduced inbound calls
Proactively reach out to customers at the right time, with the right information and in the right way. By providing self-service options before customers decide they need to act, you'll reduce your inbound call rate.
Automate appointment reminders
Appointment management enables users to confirm and reschedule appointments in real time, thus alleviating the burden from your call centers, helping to reduce operational costs.
Inform and remind - delivers impact and results
$2.5M
A Pioneer Accountable Care Organization reduced missed appointments by 25% upon using proactive communications, resulting in annual savings of $2.5 million.
44%
A leading airline reduced inbound calls related to flight delays by 44% by utilizing timely outbound notifications.
5X
A regional bank realized a five-fold increase in borrower response by using interactive voice messages over direct mail to introduce a new refinancing program.
Features
Automate interactions to anticipate needs
Cross-channel contact strategy
Sometimes one call is all it takes – but these days, it often requires more to reach and engage a consumer. Automate your contact strategy with Nuance. If an interactive voice message is not answered, the proactive engagement platform automatically shifts channels, using text, email or push notifications to get your customer's attention.
Increasingly mobile consumers often ignore phone calls, preferring to communicate via text messaging instead. Nuance proactive engagement uses Natural Language Understanding (NLU) to engage customers in a two-way text conversation capable of rescheduling an appointment—without involving a human agent.
Message personalization
Since no two customers are the same, your messages shouldn't be either. Personalize each engagement by incorporating customer attributes and leveraging both explicit and implicit preferences. All to create a more meaningful interaction that produces more meaningful results.
Learn how the Nuance proactive notifications platform can help inform and remind customers about your business.