Deliver instant messaging for your customers
Nuance Message On Demand is a cloud-based application that lets you quickly create, modify and deploy messages – outage, emergency and other alerts – across channels. All from an intuitive user interface.

Be on target and on message, all on demand
We live in an age of instant information. Increasingly mobile consumers expect anytime, anywhere interaction from the brands they trust—especially for time‑sensitive matters.
With Nuance Message On Demand, you can quickly compose and send voice, email and text messages, as well as push notifications, to alert your customers about outages, emergencies and other important information. All from an easy‑to‑use interface that puts you in control. It's simple to integrate and deploy, with minimal IT support needed and low impact on both your budget and operations. Plus, with dynamic branding capabilities, you can make sure the message is clear—and clearly from your company.
Get our latest resources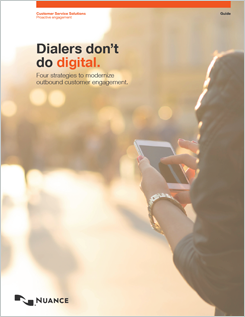 (pdf. Open a new window)
Intuitive interface
Quickly create or modify branded communications, and easily personalize messaging from a self-service user interface.
Actionable analytics
Boost performance and achieve business goals with best-in-class interaction analytics and reporting.
Features
Simple, secure, strategic
Security and compliance
When it comes to your customers, security must be the number one priority. Protect sensitive data with secure File Transfer Protocol. Plus, stay in regulatory compliance with PCI Level 1, ISO 27001 certification and HIPAA-compliant datacenters.
Self-service messaging
Creating and modifying messages is simple. With our intuitive user interface, you can easily record a message, use text-to-speech or choose from pre-recorded messages. Then personalize the content and brand the message with vanity or dedicated short codes.
Omni-channel contact strategy
Nuance Message On Demand works across channels and supports voice, email, text and smartphone push notification. You can even provide an option for customers to get transferred to an agent directly from a voice message.