Introducing Nuance Gatekeeper, secure biometrics for the cloud
Nuance Gatekeeper is a cloud‑native, decision‑making, state of the art AI‑powered biometric solution for frictionless authentication enabling organizations to mitigate fraud losses, improve operational efficiency and increase customer satisfaction across both voice and digital channels.

Improve experiences, reduce costs, and prevent fraud in every channel
Nuance Gatekeeper delivers seamless, secure biometric authentication with intelligent, proactive fraud prevention. Through Gatekeeper, companies improve customer experiences and reduce operational costs--whenever, wherever and however customers engage.
The world's most advanced biometric solution for authentication and fraud detection
Nuance Gatekeeper is a fully scalable security solution designed for the cloud. As an AI‑based solution, Nuance Gatekeeper makes decisions using an unparalleled set of characteristics and traits about the user. This includes the fastest and most accurate voice biometrics engine in the world—Nuance Lightning Engine—and a combination of other layered security factors, like conversational biometrics.
Nuance Gatekeeper offers the peace of mind you want, whether it's for sensitive tasks like cash transfers and activating a new cell phone, or any other everyday task that's important to your business and to your customer's well‑being.
Get our latest resources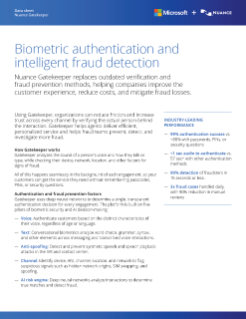 (pdf. Open a new window)
Award‑winning biometrics technology
Across industries and geographies, Nuance is recognized for its innovative biometric authentication and fraud prevention technology.

(Open a new window)
The GSMA awards its Global Mobile (GLOMO) Awards to those companies driving innovation in the rapidly evolving mobile industry. Nuance Gatekeeper won GSMA's 2020 GLOMO Award for Best Mobile Authentication & Security Solution.
Breaking new ground
Nuance Gatekeeper is a pathway to security across multiple channels, and to the full suite of Nuance's intelligent engagement solutions—whether it's for the contact center, IVR, web or mobile. With Nuance Gatekeeper, what we do best has just gotten better.
Business value:
Secure and seamless customer authentication
Improvement of business results (mitigate financial loss, operational savings)
Improvement to customer and agent satisfaction
Fraud disruption
Benefits of the cloud:
Decreased setup and ongoing costs
Faster time to market
Continuous updates and improvements
Access to our latest and ever-evolving algorithms
Dynamic scaling
Full control: eliminating complexity while offering full transparency
Increased flexibility for organizations of all sizes
Seamless integration with Nuance Omni-Channel Engagement
Key features
What you get with Nuance Gatekeeper
Nuance Lightning Engine™
Nuance Lightning Engine™ is the fastest and most accurate voice biometrics engine, powered by 4th generation DNN algorithms, with 25%‑40% improved accuracy over the previous generation. This engine provides seamless authentication in the IVR and contact center and authenticates with less than two seconds of audio.
ConversationPrint™ accuracy improvements
ConversationPrint™ is a true industry first and can identify fraudulent activity in real‑time, based on a choice of words and patterns of speech or writing during an interaction with a human or a virtual assistant.
Cloud integrations
Nuance Gatekeeper can integrate with cloud contact center integrations such as Amazon Connect and more.
Fraud datashare
Nuance Gatekeeper allows organizations to collaborate by jointly addressing fraud while also preventing and identifying fraudsters on day one.
UI and workflow improvements
Our workflow improvements will allow fraud analysts to close fraud cases more quickly and more efficiently.
Three authentication credentials
Nuance Gatekeeper leverages three authentication credentials in the voice channel—VoicePrint, ConversationPrint and DevicePrint.
Our experience
Nuance is the global leader in voice biometrics authentication with the largest installed base worldwide.
Information portals
Authentication and fraud prevention
To provide the highest levels of security and convenience to legitimate customers while combating the near‑constant attacks by hackers, organizations use Nuance's integrated authentication and fraud prevention solutions to keep customers happy and their accounts safe while saving millions of dollars. Visit our authentication and fraud prevention information portals for more information.
Authentication & fraud
Biometric authentication and fraud prevention
Nuance has been in the contact center security business for almost two decades and has become a trusted partner of financial institutions, telecommunications companies and many other industries. In fact, last year alone our solutions prevented over $2 billion in fraud, helping organizations achieve substantial operational savings while improving customer satisfaction. Our global insights and resources reinforce our market leadership as we invent and innovate security technology.
Behavioral Biometrics
Each person is unique in how they interact with their world. Nuance Gatekeeper analyzes biometric behavior patterns including how a person types, uses a mouse, holds their smartphone or even how they pause when accomplishing a task. If these behaviors change, such as when a fraudster hijacks a chat session, Nuance's market‑leading Gatekeeper can flag the user as changed and escalate to a fraud specialist.
Artificial intelligence for fraud detection
Using proprietary AI research, Nuance continuously improves voiceprints with each utterance. This self‑correcting technology ensures that voiceprints are kept up to date, solving issues like aging.
Brute force attack detection
Nuance brute force attack detection identifies when a fraudster is calling multiple times to try and find an agent who can be socially engineered. When we detect this scenario, we flag the fraud team to take a closer look so the fraudster's voice can be placed on a watchlist, preventing them from ever being able to commit fraud again.
Intelligent Detectors
Intelligent Detectors are new cutting‑edge technology from Nuance that makes identifying fraudsters much easier.
Channel ID
Analyzes the full audio to determine the device type used during the interaction.
Network ID
Analyzes network quality to detect suspicious changes.
Geo ID
Identifies the country and city the device is associated with.
ANI ID
Analyzes the metadata in a phone call and determines when an incoming call is from a legitimate caller.
Playback ID
Detects when a fraudster is using a recording of their target's voice.
Synthetic ID
Detects even perfectly‑rendered synthetic speech.
Liveness ID
Ensures the subject providing the biometrics is a human.
Nuance IQ Magazine
How do you stay ahead of the fraudsters? Innovate!
Nuance Innovation Quarterly: The Security Edition
Take a deep dive into the world of security in the contact center and beyond. Get real‑life stories from the fraud battlefield and hear tales from the pioneers of AI security.
Why adopt new technology?
"Fraud is reaching epidemic proportions in many organizations as knowledge‑based identity validation provides only symbolic security. This is particularly true within digital channels where username and password databases have been massively compromised, as well as the contact center where fraudsters leverage compromised customer data stores to answer security questions. Given this context, it is crucial that organizations adapt to this new reality and implement technologies to proactively detect and identify fraudsters. Nuance Gatekeeper is the only platform on the market that equips organizations with a robust and layered AI‑based approach to identify fraudsters while simultaneously improving the experience for consumers."

Bretislav Beranek
Vice President of Biometrics and Security, Nuance