Add Nuance biometric solutions to your arsenal
Biometrics are an invaluable and proven security tool used across the world to assist in crime prevention, investigation efforts and voice analysis. Nuance leads the pack in developing and employing solutions in governments, military, intelligence, and law enforcement agencies.

New public security weapons
Nuance, and our public security division Agnitio, is the global leader in public security solutions that employ voice biometric and other speech technologies.
If you've sworn an oath to protect your communities, you need as many effective tools to help identify threats and prosecute criminals as you can get. Nuance public security products deliver needle‑in‑a‑haystack identification and statistically sound tools that can provide actionable intelligence and stand up in the courts worldwide.
Get our latest resources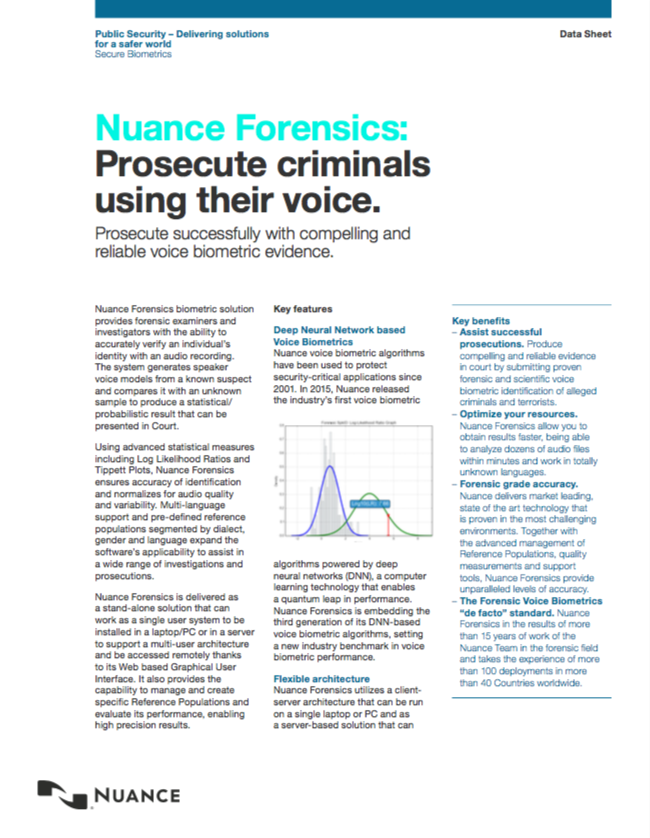 (pdf. Open a new window)
Features
A complete public security solution
The full range of voice biometric technology from Nuance and Agnitio.
Nuance Forensics
Based on Nuance's innovative industry‑leading algorithms, Nuance Forensics provides forensic examiners and investigators the ability to accurately match an individual's identity with content captured through any type of audio channel. It compares an audio file to a speaker profile and a reference population to statistically assess a match. Nuance Forensics is a complete set of tools to develop reference populations, build speaker profiles and construct a library of certified speaker samples.
Nuance Identifier
Through voice biometric analysis of audio files, Nuance Identifier can identify known individuals of interest, enabling government officials to match recorded conversations to targets. Using industry‑leading text‑independent voice biometric algorithms, Nuance Identifier can help officials find the needle‑in‑a‑haystack by performing 200,000 voice biometric comparisons per second per CPU core. Large‑scale searches on millions of audio files can be performed within minutes.
Gatekeeper Engine
Gatekeeper Engine is a powerful engine designed to cover all Speaker Identification needs in lawful intercept and Signal Intelligence solutions. Due to impressive accuracy and speed, Gatekeeper Engine can spot audio targets among millions of records and find relationships among speakers in large amounts of data. Gatekeeper Engine allows deployment of all voice surveillance solutions, ensuring easy communication, data exchange compatibility and scalability.

Gatekeeper Engine can also provide extra content information thanks to its intelligent detectors (Gender and Language Identification) and market‑leading automatic transcription capabilities.

Gatekeeper Engine can help both in strategic scenarios (offline analysis) as well as tactical situations (real‑time analysis) and allows full scalability being able to support from small deployments to country‑wide systems.
BATVOX
BATVOX is an expert 1:1 Voice Biometrics tool designed for criminal identification experts and scientific police to perform speaker verification and compile expert reports as evidence in court.

BATVOX is the pioneering tool that provides the precision and reliability required in court hearings, providing detailed speaker verifications with Likelihood Ratios (LR) using the Bayesian Approach (as for DNA analysis). The LR gives a robust estimation of the verification task, in a probabilistic way, which can be easily presented and justified in legal processes, with the support of an expert.

BATVOX is the "de facto" standard for automatic speaker recognition, present in more than 50% of forensic labs worldwide. It has more than 100 installations internationally and used in court in over 35 countries.