Nuance's Intelligent Engagement AI Services reinvent customer engagement in a 5G world
A cloud‑native AI‑first strategy combined with 5G to enable brands to engage in new and better ways across any digital and voice channel.
5G unleashes AI‑powered customer engagement
5G not only enhances current customer engagement investments, it enables new and better ways to engage. 5G delivers higher levels of automation for the consumer, for the agent and for the enterprise. Engagement that is faster, more accurate and more effective.
Get our latest resources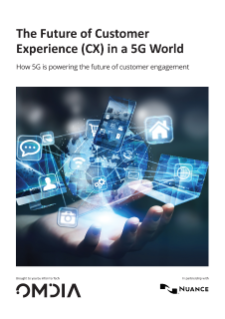 Intelligent Engagement AI Services for a 5G world
As 5G becomes real, leading brands and CSPs are putting artificial intelligence (AI) at the front of their digital transformation and customer engagement strategies. Some are already building-in customer engagement AI services to their 5G platforms.

Why? Because 5G:
Magnifies existing customer engagement
5G is fast—10-100x faster than 4G networks—and as a result 5G will enhance the performance of existing customer engagement solutions, including proactive notifications, virtual assistants and live agents, for web and messaging in real‑time and asynchronous, and more.
Enables new ways to engage—with more AI
Traditional voice calls are rarely automated with AI—due to their analog nature. 5G makes it possible to switch voice/video engagement to the lower cost digital voice channel. As a result, 5G enables the AI‑first digital transformation of customer engagement, where a virtual assistant on voice and digital channels can automate up to 80% of engagements, and for those that need agent support, reduce average handling time with AI‑powered next best action, recommendation and multi‑speaker real-time transcription.
Flexibly allows Telco/CSP's to "build‑in" Engagement AI Services
5G changes everything, and especially has changed the way communications services are built and delivered. And for the first time, 5G enables the ability to combine both end‑to‑end communications and engagement services within the same architecture.
Optimizing the network
Modern 5G architectures are mirroring those of modern public clouds—open, extensible, virtualized, cloud‑native software platforms with high levels of automation and API's. They are highly distributed, deployed, and managed more quickly and less expensively than ever.
Nuance Intelligent Engagement AI Services span:
Conversational AI Services
Allows consumers to engage in natural interactions through text or speech to gain immediate access to information with easy, effortless outcomes through IVR, messaging or web channels. Conversational AI comprises speech‑to‑text, text‑to‑speech technologies, natural language understanding, and dialog that make it simple for customers and brands to engage.
Engagement AI Services
Allows for seamless and effective interactions powered by Nuance deep heritage in artificial intelligence but also provides the ability to truly serve in a B2B model with white‑labeled solutions in a powerful way. This includes virtual assistants and live agents, for web and messaging, supporting real‑time and asynchronous conversations, plus AI that empowers agents with next‑best action recommendations. In addition, Agent AI capabilities use insights from historic voice and text conversations to coach agents with next‑best‑action and predictive recommendations. All leading to faster, cohesive customer service, increased revenue while reducing agent handle times.
Security AI Services
The security every customer requires with the power of secure multifactor authentication through AI‑automated biometrics, leveraging voice, facial or behavioral. Security AI Services can be accessed via API to enable identification, authentication, enrollment and fraud capability.
Nuance Intelligent Engagement AI Services
AI-first digital customer engagement
5G and Nuance Intelligent Engagement AI services are ushering in the day where nearly all customer engagements will be automated—for the consumer, agent and enterprise.
Nuance Powered Superior Customer Experiences
Nuance elevates customer experiences for over 1,500 enterprises around the world, including large telcos and CSPs. Nuance AI powers over 31B customer interactions a year—in the IVR, via voice and messaging, virtual assistants, live agents, Smart TV voice control, IoT devices, and more. Our voice biometrics verify 1B people a year and save enterprise customers more than $3B a year.
AI-Transformation and Digital Transformation Services
The 700+ strong Nuance Global AI Professional Services team has an average tenure of 10 years in helping organizations define, design, implement, integrate, deliver and optimize digital—and AI‑transformation strategies and programs. Hundreds of leading brands around the world have added Nuance to their team to deliver superior results.
Unlock the power of 5G with the full set of Nuance's Intelligent Engagement cloud services, spanning conversational AI, virtual & live engagement and security & biometrics. Create innovative customer experiences using market leading AI‑based services for speech, nlu, dialog, and more that allow you to customize applications and integrate with existing third‑party technologies.
Control your customer experience and your data
As a trusted partner and leader in every vertical from healthcare to telco, Nuance is no stranger to digital transformation and data privacy. Don't relinquish control over your customer data and user experience; partner with Nuance and enjoy the peace of mind that comes from protecting your subscribers.
Why organizations choose our intelligent engagement platform powered by AI
31
Billion customer interactions with 16 billion digital engagement interactions per year
40%
Reduction in time and costs making customers happy and significantly adding to their lifetime value
20
Years helping global market leaders transform their businesses through improved customer experience, cost reduction, and growth KPIs