Engage your mobile customers on their terms
Smartphones are everywhere – which means your customers can do business anywhere. Nuance Customer Service Messaging helps you deliver a seamless and secure brand experience.





Call deflection solutions from Nuance
With call deflection solutions from Nuance, you can shift callers to asynchronous messaging channels, eliminating hold time, providing faster service and increasing agent productivity. Our proven AI engages customers at the start of their journey—understanding what they want and offering a digital channel to provide the best experience while keeping your costs in check.
Messaging done right
Worldwide mobile and tablet internet usage exceeded desktop for the first time in November 2016*. As your customers reach for their mobile devices more often, be ready to engage them across mobile channels – mobile browser, SMS, branded and messaging apps – with a seamless customer experience.
Be there for your customers in their mobile moment of need. Nuance Customer Service Messaging helps you deliver an effortless engagement that ensures an immediate response to any inquiry your customers might have while enabling them to connect with you on their terms. Connect the dots for your customers by integrating automated and human‑assisted conversations happening in messaging apps like Apple Business Chat, Google's Business Messages, and Facebook Messenger, via SMS or inside your app into your omni‑channel strategy.
Nuance makes it easy for you. Our platform ensures a consistent engagement experience for your customers through any channel they choose. Integrated analytics are powered by AI to deliver measurable insights along the entire customer journey.
Enable superior customer service messaging and authentication for both text and voice‑based engagements for higher customer satisfaction and lower contact center costs.
Is messaging right for your company? Check out our infographic –"A Conversation About Messaging for Customer Engagement" to learn why it's important to meet your customers' needs for instant service on their terms.
* Stat Counter Global Stats
Get our latest resources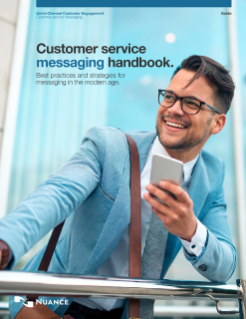 (pdf)

(pdf. Open a new window)
Messaging+
It is important for your customers to engage with you on their terms. Nuance Customer Service Messaging combines real-time and asynchronous interactions, automated and human assisted engagements, voice biometrics authentication and much more to deliver an always available assistance for high CSAT and reduced contact center costs.
Simple authentication
Instead of remembering and typing passwords or PINs, Nuance mobile technology allows your customers to authenticate themselves by simply talking to their smartphone or taking a selfie.
Strong brand experience
Nuance can help you deliver the same design experience on desktop and mobile browsers, SMS and mobile apps building a stronger brand and a more trusted interface with a personality your customers are already comfortable with. Simplify the way your customers engage with your brand through designs that work within the limited real estate of a smartphone.
Move callers to digital
Organizations can blur the lines between channels and eliminate silos across their customer service experience by connecting phone and messaging channels for effortless interactions between agents, consumers, and self-service.
Products
How to succeed in an "always-on" world
Nuance Customer Service Messaging
Watch how Nuance Customer Service Messaging enables you to engage with your customers on their terms.
Nuance Customer Service Messaging
In today's mobile first world, consumers want to interact with friends, family and businesses from anywhere, at any time, while on the go. Messaging has become the preferred way for consumers to interact with brands, and for brands, it's more important than ever to reach customers on the channels of their choice. So how do you communicate with your customers on their terms, giving them the freedom they need to continue the conversation whenever it's convenient, while keeping every interaction in context.
Nuance customer service messaging delivers a superior customer experience across messaging channels and leverages an AI powered digital engagement platform to seamlessly connect the dots between mobile, web and IVR. This eliminates communication silos and allows your customers to receive instant support through intelligent virtual assistance with the option to seamlessly escalate to an agent if needed, so you can focus on what really matters: delivering an exceptional customer experience.
Your customers are already using messaging to communicate. Isn't it time you engage them in the same way? Contact Nuance today. Nuance, bring intelligence to life.
Nuance SMS Text Messaging for Customer Engagement
Today's consumers want seamless experiences. And they want to engage whenever it fits their schedule. How do you deliver customer service with the speed and convenience they've come to expect? Nuance Customer Service Messaging allows your customers to communicate with your brand – across channels like SMS, Apple Business Chat, Facebook Messenger and more – without losing context whether they answer moments, days or weeks later.
Let's look at how Paul, a Sphere Telecom customer, receives personalized and timely assistance using a messaging application to easily update his plan for an upcoming trip.
Paul sends a message to Sphere requesting information about his plan. Based on the type of question and Sphere's routing rules, Paul is connected to a live agent that has previous contact information and his account details.
During the chat session, Paul's friend calls to catch up and talk about the upcoming trip. Because Nuance Customer Service Messaging allows for breaks in the conversation without loss of context, Paul can take the call and easily continue the conversation with Sphere at a later time.
Once finished with his call, he resumes the interaction right where he left off.
The agent provides information about Paul's current plan and then offers additional options based on his destination and services requested. Paul agrees on the suggested plans and sends his travel dates. The agent confirms his selections and Paul is all set for his trip abroad.
The day of his trip he receives a notification from Sphere reminding him that international services are now active and ready for his trip.
Nuance Customer Service Messaging enables enterprises to react to their customers immediately on the messaging channel of their choice, while allowing them to continue the conversation on their terms.
Looking to build your own messaging experience?
Do conversational AI your way with Nuance Mix—
a new DIY tooling platform
Learn more
Infographic
Amaze your customers with messaging
Engage your customers in their moment of need through the channel they prefer—messaging! This infographic explores the benefits of using messaging in your contact center—for both your company and your customers!
Learn how Nuance Customer Service Messaging can help you connect with customers, anywhere and everywhere.