Deliver advanced self‑service with Cloud IVR
Keep IVR delivery at the level of engagement customers expect with Nuance Cloud IVR, an advanced cloud‑based Conversational IVR platform for customer service.
A flexible IVR solution you can count on
Innovate, keep up with emerging technologies and trends and improve the customer self‑service IVR experience without increasing costs with Nuance Cloud IVR. Building on the Nuance Intelligent Engagement Cloud, Nuance Cloud IVR combines the latest in our conversational voice IVR technologies with a powerful cloud platform for the most advanced end‑to‑end solution.
Benefits
Time for the cloud
Deliver differentiated customer experiences while giving organizations increased flexibility, faster time to market, and reduced operational expenses.
Reduced operating cost
Cloud computing eliminates the capital expense of building and maintaining server infrastructure, shifts support costs, and allows you to pay incrementally only for services used.
Increased flexibility
Utilizing cloud services allow organizations to more quickly adjust to changing demand while their employees focus on projects that move the business forward.
Faster time to market
Shorten project timelines and create a more predictable time‑to‑market by eliminating server and software provisioning, giving you the competitive advantage you need.
Offer human‑like conversational experiences
Create intelligent, two‑way conversational experiences using leading AI and NLU that improve customer self‑service and business results.
Features
What Cloud IVR offers
Our proven AI for natural voice experiences, delivered in the cloud.
Natural language Conversational IVR
Better recognize caller intent and create engaging experiences with leading AI and NLU.
Carrier grade availability with full disaster recovery
Deployed in multiple datacenters with N+1 architecture within each region ensures capacity is always available.
Scale capacity on demand
As demand increases, scale quickly to meet changing business needs or increasing call volumes.
Real-time configuration management
Users can make real‑time updates, add messages, change greetings, modify grammars, or change routing rules. Define configuration sets to make fast and easy bulk changes for holiday promotions or maintenance.
DIY Tooling
Create and customize your IVR services and menus quickly with Nuance Mix.
Advanced reporting and analytics
Identify trouble spots with Nuance Insights for out‑of‑the‑box omni‑channel reporting.
CTI connectivity to leading contact center providers
Passing caller context to agents with Nuance developed connectors for direct CTI integration with leading Contact Center providers including Avaya, Cisco, or Genesys.
Security and compliance
PCI, SOC2, ISO 27001 and HIPAA compliant hosting environment.
Digital channel integration
Seamlessly integrate your IVR with your VA, chatbot, or SMS channels to proactively move callers to digital channels—reducing costs, freeing agents, and improving customer satisfaction.
Integration with CCaaS providers
Nuance Cloud IVR works with any Contact Center‑as‑a‑Service (CCaaS) provider. It can integrate with CCaaS telephony (SIP, PSTN), pass CTI data, and integrate with any CRM. Cloud IVR can pass caller context to agents using web APIs or through Nuance developed connectors for direct CTI integration with the contact center provider of your choice.
Cloud IVR: 4 things you'll gain by moving to the cloud
As uncomfortable as shedding IVR equipment operations might be for some companies, the advantages of cloud IVR to both callers and the bottom line simply can't be ignored.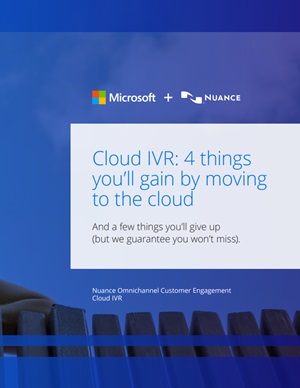 Why Nuance
Deliver optimal experiences with confidence due to proven technology and results.
24 hours a day x 365 days a year
Managed cloud with Network Operations Center for Platform, App monitoring, support and triage.
25+ years delivering proven IVR results
Trust Nuance's deep expertise delivering results for the biggest brands.
Enabled for voice biometrics support day 1
Securely authenticate callers with only the sound of their voice.
Industry starters kits accelerate time to market
Build quickly based on Nuance's years of vertical experience.
Nuance Mix DIY Omnichannel Tooling
Update IVR menus quickly in‑house or convert the IVR application into a new VA or chatbot.
Flexible architecture and offering
Deploy Nuance Cloud IVR in front of or behind your contact center providing self‑service and intelligent routing. It can support PTSN and SIP from any telecom provider and have option to connect over the dedicated MPLS data circuits, Microsoft Azure Express Route, or directly over public internet.
Experienced support for exceptional results
With Nuance Cloud IVR, you gain the full expertise of the largest professional services organization in the world. Our team is focused on evolving self‑service customer care. And with decades of experience across all industries, we have the historical data and best practices to deliver customer self‑service IVR solutions that will set you apart while reducing costs.