Clinical documentation solutions for allied health professionals
Nuance speech-to-text solutions streamline the documentation process for allied health professionals and free up time to spend with patients.
Concerns & benefits
Allied health professionals are clearing administrative backlogs and saving time with AI-powered clinical speech recognition
Allied health professionals (AHPs) span a diverse range of occupations and their care is carried out in many different clinical settings. 90% of AHPs spend 1-3 hours a day on documentation. Speech-enabling the electronic patient record (EPR) system provides AHPs with an accurate, rapid, and efficient way to capture the complete patient story.
Improved clinician satisfaction
Research indicates that 85% of NHS healthcare professionals see the burden of clinical documentation as a significant contributor to burnout. AI-powered speech recognition is dramatically cutting the time clinicians spend on documentation, freeing them to spend more time on patient care.
Optimised and utilised EPR
AI-powered speech recognition and auto-text templates improve the quality of clinical notes and the richness of EPR data. Nuance speech recognition can also be used to navigate EPR systems more easily and to generate voice-driven content—including emails—outside the EPR.
Deliver clinical notes faster
With speech recognition, notes are dictated directly into the EPR, helping AHPs reduce report turnaround time and deliver clinical notes faster to peers. This expediency improves the patient experience as clinic letters are completed faster.
Reduced administrative costs
In addition to reducing document turnaround times, speech recognition also helps AHPs to significantly reduce administrative costs and eliminates the need for expensive outsourced transcription services.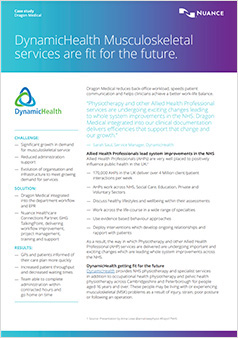 Releasing admin backlogs for Allied Health Professionals
Administrative burden has been relieved and letter turnaround has been reduced from weeks to days at this community-based musculoskeletal and physiotherapy services.
Solutions
Documentation capture solutions
AI solutions that empower allied health professionals
Dragon Medical One
Dragon Medical One is a secure, cloud-based clinical speech recognition solution that accurately and efficiently captures the patient story into all major EPR platforms.
Impressive outcomes start here
3x
Dictation is at least 3x faster than typing and AHP's are saving hours per week with clinical speech recognition.
24hrs
Physiotherapists at Dynamic Health now send letters to GP's and patients in days instead of weeks.
£0
Speech recognition is helping clinics eliminate the cost of outsourced transcription services.