Transform the way your pathology department works with speech recognition
Improve reporting quality, increase throughput and regain work‑life balance by embedding clinical speech recognition into your pathology workflow.
Concerns & benefits
Pathologists are avoiding administrative bottlenecks and delivering reports faster with AI‑powered clinical speech recognition
Today's pathologists are facing the twin challenges of a worldwide shortage of pathology specialists and growing demand for their services. Solutions that assist the pathology workflow without compromising efficiency and quality are vital in supporting the service.
Improve staff satisfaction
Speech recognition allows pathologists to maximise their time for clinical analysis and interpretation and minimises repetitive, time-consuming administration.
Optimise documentation workflow
Voice commands cut out the need for multiple clicks and keystrokes to move between Laboratory Information Management System (LIMS) screens and pathology systems.
Deliver reports faster
Speech is at least 3x faster than typing and notes are completed in real-time - you can dictate while viewing a specimen. This helps remove admin backlogs and accelerates report turnaround times.
Reduced administrative costs
In addition to reducing report turnaround times, speech recognition also helps pathology labs to significantly reduce administrative costs and eliminates the need for expensive outsourced transcription services.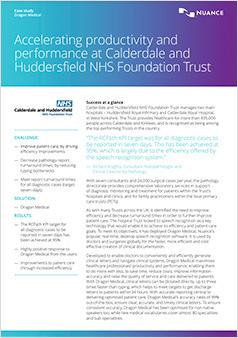 Preventing pathology bottlenecks
Hear how the pathology team at Calderdale and Huddersfield NHS Foundation Trust benefited from Dragon Medical speech recognition.
Impressive outcomes start here
3x
Dictation is at least 3x faster than typing and pathologists are saving hours per week with AI-powered clinical speech recognition.
95%
With speech recognition 95% of diagnostic cases were reported within 7 days by pathologists at Calderdale and Huddersfield Trust.
45mins
Pathologists saved approx. 45mins per day at University Hospitals Plymouth Trust using speech-to-text in their LIMS.
Solutions
AI solutions that empower pathologists
Nuance solutions help provide greater accuracy, efficiency, and flexibility for pathologists.
Documentation capture solutions
Dragon Medical One is a secure, cloud-based clinical speech recognition solution that accurately and efficiently captures the patient story into all major EPR platforms, clinical or lab information system.