Easily accelerate AI adoption and advance care
The Nuance Precision Imaging Network (PIN) enables AI developers to quickly and conveniently commercialize market‑ready AI solutions to multiple imaging stakeholders.
Better platform. Better workflow.
Nuance PIN is the only network of its kind to offer imaging insight solutions and full clinical sales and program implementation support to such a broad range of imaging stakeholders, from radiologists to payors to medical device manufacturers.
Simplify the evaluation, purchase, and adoption of AI solutions
Make it easier for customers to access and integrate your AI solution into their workflows to achieve target performance objectives.
Streamline integration and accelerate deployment
Take advantage of a proven, trusted network that connects 14,000+ facilities for image and data exchange used to share more than 1.5 million imaging studies monthly.
Lower security risks and eliminate IT burdens
Reduce customer challenges and frustrations associated with managing multiple workflows, integration points, and vendor contracts.
Trusted, industry‑leading, and market‑ready
Expand your reach on a platform powered by the proven AI, data‑driven infrastructure, and global scale of Microsoft + Nuance.
A game‑changer for AI developers
PIN provides unique "voice of customer" insights and opportunities to drive additional use cases. Enabling users to share imaging data and insights more efficiently helps bridge medical information silos, improve patient outcomes, and reduce medical costs.
Single point of entry
One way to access AI services, images, and data—and one vendor for contracting.
Seamless integration
Effortless synchronization with reporting, PACS, VNA, EHR, and other clinical systems.
Common Data Elements (CDE)
Harness CDE to extract meaning, share data, and drive action.
Model performance tracking
Improve outcomes through data‑driven AI‑selection, user acceptance, and model drift over time.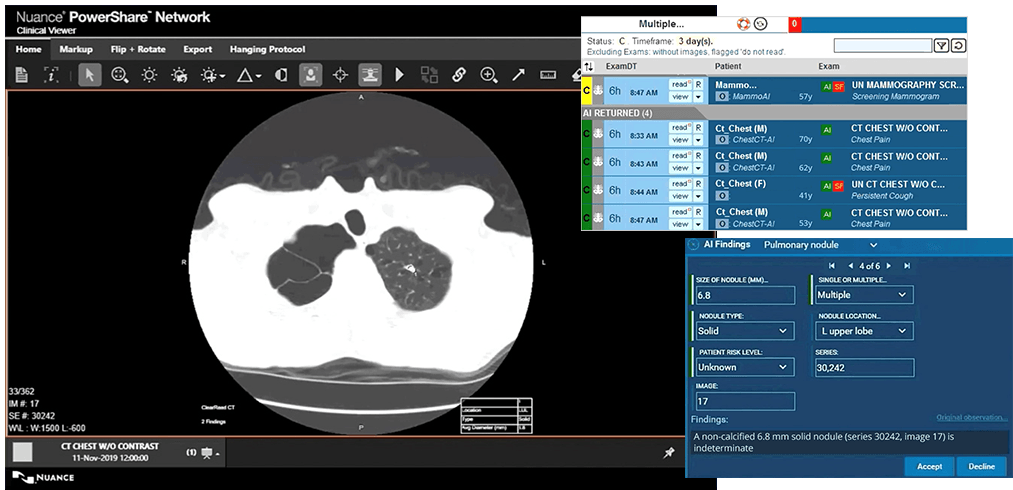 Integration in action
Discover how partner AI solutions can be easily integrated with Nuance PIN to make report and imaging data more actionable and consumable, including worklist prioritization with AI notifications, real‑time interaction with AI findings, inserting AI‑generated data directly into imaging reports, and gathering insights for referring physicians.
Fast‑track your impact
Draw on the combined power, experience, and expertise of Microsoft + Nuance to save time and money on operational tasks, technical support infrastructure, and go‑to‑market resources while providing a trusted, reliable, and secure network to expand your reach.