Just what the doctor ordered
In ambulatory practices 30 percent of all patients spend 10 minutes or less with physicians. Nuance helps physicians make the best use of their time with clinical documentation that writes itselfTM, helping them reduce documentation time by more than 50%. By using voice to navigate, dictate and edit content, clinicians can spend less time in the EHR and more time with patients.
The exam room of the future
Machine learning and AI show great promise for healthcare. Explore innovations that amplify human intelligence to improve how care teams interact with patients and document care.
See the Dragon Ambient eXperience in action
Join one of our upcoming livestream demonstrations and discover how Nuance DAX allows physicians to turn the chair around and focus on the patient, save time, preserve the physician-patient experience, and eliminate after-hours work.
Join a virtual demo
Unmatched outcomes
The positive impact on care delivery
76%
Physicians surveyed across specialties believe Nuance DAX improves the quality of the patient experience
9 min
Decrease in average wait time for primary care patients—cutting the industry average wait time by 50%
6 min
Physicians across specialties reported saving per patient encounter in documentation time
+24%
Increase in the number of patients a cardiologist saw per day
Ambient clinical intelligence (ACI)—a comprehensive, AI‑powered, voice‑enabled solution
ACI uses ambient sensing technology to securely listen to clinician‑patient encounter conversations while offering workflow and knowledge automation to complement the EHR. Exceeding the capabilities of a virtual or on‑site scribe, the Nuance Dragon Ambient eXperience (DAX), innovated by Nuance and Microsoft, promotes a better patient experience by accurately capturing and appropriately contextualizing every word of the patient encounter and automatically documenting patient care without taking the physician's attention off the patient.
Ambient device and mobile application
Clinicians engage in conversation with their patients while a dedicated mobile app or purpose‑built ambient device with highly optimized microphone array, large interactive display, integrated biometrics, and multi‑sensory capabilities securely captures a multi‑party conversation.
Simply say "Hey Dragon" to get information in and out of the EHR. Integrated virtual assistant capabilities enable care teams to complete a growing list of tasks in real time within their EHR and other third-party applications.
Deep‑learning‑based AI securely converts encounter conversations into standardized, structured notes tailored for each specialty that adhere to established documentation standards. AI‑generated notes go through a brief quality review process to check for accuracy, omissions, and appropriateness before being delivered to the clinician for signature in the EHR—creating an AI learning loop for continuous improvement.
How AI technologies improve the patient experience
Watch this on‑demand fireside chat‑style webinar where two doctors and a senior editor from MGMA discuss how the COVID‑19 pandemic disrupted healthcare and reinforced the need to improve physician and patient experiences, quality of care, and financial outcomes through AI technologies.
Get our latest resource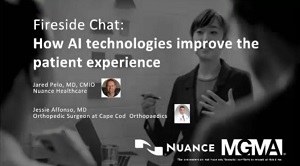 Fireside chat: How AI technologies improve the patient experience
Hear from real-world physicians how they spend more time with patients and less time documenting with documentation that writes itselfTM.
View webinar

(Open a new window)
Video testimonials
Dragon Medical One real‑world use cases
Dr. Michael Greene of Peachtree Spine uses Dragon Medical One Speech Recognition to spend more time with his patients and less time documenting clinical notes.
Watch how Illinois Cancer Specialists improves the patient‑physician relationship and streamlines their clinical documentation with Dragon Medical One.
Leon Medical Centers aims for the highest documentation standards to improve quality and to focus more on patient care.
AI-powered solutions that enable physicians
Ready to take your documentation to the next level?
Contact us to speak to a specialist.