Next‑generation radiology reporting
Harness AI to achieve new levels of reporting accuracy and quality. An updated user interface and color palette, along with countless workflow enhancements and new features, help make PowerScribe One a game‑changer.
What's new in PowerScribe One
Innovation by design
AI‑powered capabilities help automate your reporting, drive consistency, and minimize errors. Cloud‑hosted speech and language understanding algorithms provide exceptional recognition—without local profile training and maintenance.
Modernized look and feel
Dark and light modes accommodate varied reading environments
Speech recognition modes automatically adjust to report creation or editing tasks
Real‑time clinical intelligence
Automated in‑line alerts can help minimize errors and inconsistencies
Language understanding drives decision support tools
Automated workflow
Structured data helps automate report creation
Data is exchanged in real‑time between applications
Secure, agile platform
Robust hosted architecture is built on Microsoft Azure
Cloud speech helps reduce IT footprint and maintenance costs
Benefits
Work smarter, not harder
PowerScribe One makes AI useful and usable within the workflow. By improving speech recognition accuracy and report quality—while helping to create more content‑rich reports—it gives radiologists more time to focus on what matters most—the care teams and patients they serve.
Drive efficiency through streamlined processes that automate the reporting workflow.
Support increased accuracy by auto‑populating reports, reducing errors, and minimizing redundancy.
Enhance communication across the enterprise by intelligently sharing discrete data between systems, users, and platforms.
Improve follow‑up recommendation consistency with AI‑driven, automated guidance support and quality checks that drive evidence‑based clinical decisions and support MIPS initiatives.
Streamline operations with easier deployment, more timely updates, and access to innovations via a secure, cloud‑based environment.
Feature highlights
Countless capabilities, all included and designed for you
Turn free‑form dictation into organized, structured reports automatically
See automated, in‑line alerts for sex and laterality mismatches and possible critical findings
View real‑time checklist of alerts and notifications without distracting pop‑ups
Improve accuracy, eliminate profile training and management, and simplify remote access
Deliver more content‑rich reports with integrated AI services and real‑time clinical intelligence
Automate delivery of follow‑up recommendations to EMR and other systems
Incorporate real‑time, in‑workflow decision support based on report context
Keep your eye on images with a translucent movable window that displays key information
Feature demos
Streamline your reporting
See how the PowerScribe One Heads Up Display helps radiologists keep their eyes on the images while they dictate.
Watch how Ambient Mode in PowerScribe One automatically turns free‑form dictation into structured reports.
Learn how AI‑powered decision support tools in PowerScribe One drive confidence with more consistent recommendations.
Unlock the power of AI
Integrated AI services through the Precision Imaging Network
Seamlessly integrate AI services directly into workflow to help reduce repetitive tasks and deliver clinical insights. Enable radiologists to detect disease earlier and faster, streamline care coordination, and support positive patient outcomes.
Create an environment where radiologists thrive
View the eBook to see how AI‑driven, real‑time intelligence in PowerScribe One can help radiologists automate what they can't stand, surface what they can't see, and identify what they can't miss.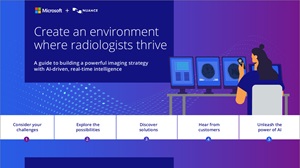 Hear from customers
Harnessing structured data with PowerScribe One to impact care delivery
Ben Gordon, MD, radiologist and senior medical director of imaging services at Intermountain Healthcare, describes how structured data in PowerScribe One helps to create more complete and consistent reports.
Chief technology officer David Bachman describes how cloud speech and the advanced reporting capabilities of PowerScribe One are improving accuracy and productivity at Open System Imaging.
Complementary solutions
One partner, one platform
Extend the value of radiology across an AI-powered network that drives performance and outcomes.
Drive improved levels of workflow efficiency, accuracy, and consistency.
Contact us to speak to a diagnostic solutions specialist today.