Improve physician documentation. Achieve unmatched outcomes.
Drive better data and outcomes across the continuum of care with Nuance's full portfolio of Computer‑Assisted Physician Documentation (CAPD) solutions, backed by artificial intelligence (AI) for healthcare.
Avoid rework so you can check up on your patients, not your documentation
Hospital staff burnout is fueled by documentation rework and retrospective queries and burnout leads to an exponential rise in medical errors, denials, and increased costs. See how Nuance Computer‑Assisted Physician Documentation (CAPD) solutions can help.
Get our latest resources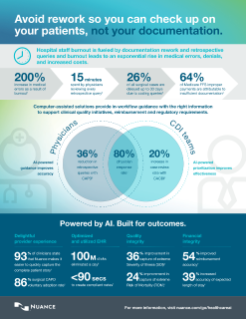 CAPD in action
See Nuance CAPD in action
Nuance computer‑assisted physician documentation solutions ensure quality and compliance in real‑time, so physicians can focus on what matters most…their patients.
Solutions
Support across care settings
Nuance Computer-Assisted Physician Documentation (CAPD) solutions offer physicians in-workflow guidance to drive better data outcomes across care settings. Our CAPD solutions apply workflow and knowledge automation, proven clinical content and point‑of‑care advice to capture complete and accurate documentation while improving productivity and satisfaction.
In-workflow guidance analyzes relevant notes for a comprehensive view of patient acuity and helps identify undocumented and unspecified diagnoses and comorbidities to improve CC/MCC capture.
In-workflow guidance improves care quality and risk adjustment to identify chronic conditions and drive appropriate reimbursement and RAF scores in outpatient clinics.
In-workflow guidance helps surgeons provide key details that support appropriate reimbursement, coding, and quality.
Benefits
Guidance at the point of care
Apply deep expertise and engage physicians with a more efficient workflow. Nuance has created AI‑powered documentation guidance software to capture complete and more accurate documentation at the point of care, helping organizations achieve:
Identify undocumented and unspecified diagnoses based on clinical evidence to better capture the true severity and acuity of each patient. Physician documentation guidance initiates a virtual clinical conversation with the physician to add critical details that impact the treatment and expected outcomes. 
Engaging physicians at the point of care reduces retrospective queries by up to 40%, drives overall quality improvements, and allows teams to dedicate more time to patient care.
Engage physicians and capture documentation to promote better care, more appropriate reimbursements, accurate quality ratings and risk‑adjustments, shorter billing cycles and a more optimized denials management process.
Features
Workflow that engages physicians
Searches for clinical clarification opportunities based on evidence of symptoms, findings, and treatments
Works with Dragon Medical One or integrated in the EHR, including specialty workflows
Analyzes the right notes for a comprehensive view of patient acuity across the encounter.
Only prompts when there is high confidence and sufficient clinical evidence to support the clarification.
Automatically identifies opportunities for clarifications at the right time in the workflow for physicians, improving effectiveness and avoiding rework.
Covers resource gaps and augments staff coverage. Allows CDI team to reallocate resources to more complex cases or broaden case coverage.
Physicians can continue dictating patient stories as discrete data elements are extracted from narratives and made available in the problem list.
Hosted on Microsoft Azure, a HITRUST CSF‑certified hosting infrastructure, to support privacy, security, and compliance.
Professional services
Consultative advice to design your program
Each organization is unique, and any technology, content or analytics implemented should be chosen to match program goals and readiness—while laying a foundation for future growth. Our team of experts offer all the support you need to plan, deploy, and adopt our solutions to help you achieve clinical documentation excellence. Let our team help you plan the level of education, leadership training, and ongoing support needed to maximize the return on your investment.
Learn how Nuance CAPD, backed by artificial intelligence, can simplify clinical documentation for your care teams.