Improve physician documentation. Achieve unmatched outcomes.
Drive documentation accuracy and better quality outcomes across the continuum of care with Nuance's portfolio of Computer‑Assisted Physician Documentation (CAPD) solutions, backed by artificial intelligence (AI) and hosted on Microsoft Azure.
See Nuance CAPD in action
Nuance's suite of CAPD solutions helps improve documentation quality and streamline workflow with compliant documentation guidance delivered at the point of care.
Named Best in KLAS 2023 for Computer-Assisted Physician Documentation, driving documentation accuracy and better quality outcomes across care settings.
Solutions
Support across care settings
Discover how Nuance CAPD supports better outcomes across care settings. Combining sophisticated workflow automation and proven clinical content, Nuance CAPD offers impactful, point‑of‑care advice to streamline the capture of complete and accurate documentation.
Benefits
Guidance at the point of care
Discover how AI‑powered documentation guidance helps capture complete and accurate documentation at the point of care, helping organizations:
Quickly identify undocumented and unspecified diagnoses based on clinical evidence to better capture the true acuity of each patient and close information gaps. Clinicians are notified of impactful, relevant information at the time it matters most.
Alleviate cognitive overload with timely decision support and guidance. Increased visibility into key datapoints helps clinicians identify and document critical details impacting patient treatment and expected outcomes.
Help protect your patients—and your organization's reputation—with proven clinical content and point‑of‑care advice for compliant, accurate documentation that reflects the full patient story.
Promote better patient care, risk‑adjustment, and quality ratings while optimizing reimbursement, billing cycles, and denials management processes.
Let AI do the heavy lifting
Discover how Nuance Computer‑Assisted Physician Documentation (CAPD) aids clinicians with timely and impactful guidance, so they can focus on what matters most: their patients.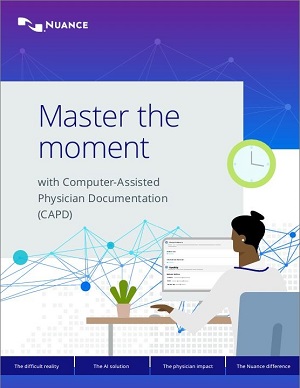 Features
Better clinician experience. Better outcomes.
Searches for documentation opportunities based on credible clinical evidence.
Accessible through Dragon Medical One and tightly integrated with your EHR and specialty workflows.
Analyzes notes across the patient encounter for a comprehensive view of patient acuity.
Prompts clinicians with customizable guidance only when there is a high degree of confidence, mitigating alert fatigue.
Delivers impactful, real‑time guidance as documentation is created, streamlining workflow and minimizing disruptions down the road.
Robust analytics & reporting
Intuitive analytics allow organizations to easily track usage, adoption, and other KPIs across the enterprise.
Physicians can continue dictating patient stories as discrete data elements are extracted from narratives and made available in the problem list.
Hosted on Microsoft Azure, a HITRUST CSF‑certified hosting infrastructure, to support privacy, security, and compliance.
Complementary solution
Nuance CDE One
Harness the power of AI to optimize your CDI program and drive outcomes. Explore how to enhance productivity, streamline and prioritize workflows, and foster better collaboration with Nuance CDE One.
Learn how Nuance CAPD, backed by artificial intelligence, can simplify clinical documentation for your care teams.