Voice‑enabled virtual assistants for healthcare
Empowering care teams to be more productive, better informed, and better served by applying AI to high‑impact problems in healthcare.

The Dragon Medical Virtual Assistant automates high value clinical tasks by delivering information when requested with natural language. Conversational models empower voice assistant skills to fuel a more efficient and dynamic care team. Virtual Assistant capabilities—performing native application actions and presenting third-party content—are delivered for no additional cost through Nuance solutions like Dragon Medical One and Dragon Ambient eXperience, and EHR partners such as Cerner, Epic and MEDITECH Expanse.
Get our latest resources
(pdf. Open a new window)
See it in action
Virtual assistants across devices and care settings
See how virtual assistants enhance interactions between clinicians and patients, improving patient experience and reducing physician burnout.
Experience the EHR like never before
Nuance's virtual assistant solution makes interacting with the EHR—scheduling an appointment, searching a chart, writing an order, just to name a few—as easy as telling it what to do.
Delivery
Nuance brings next level conversational AI to EHRs
The more integrated our solutions are, the more effortless documentation becomes.
#1 Best in KLAS Award for Speech Recognition (Front-end EMR)
Dragon Medical One named 2021 Best in KLAS: Software & Services award winner earning praise from clinicians for helping them deliver and document better patient care.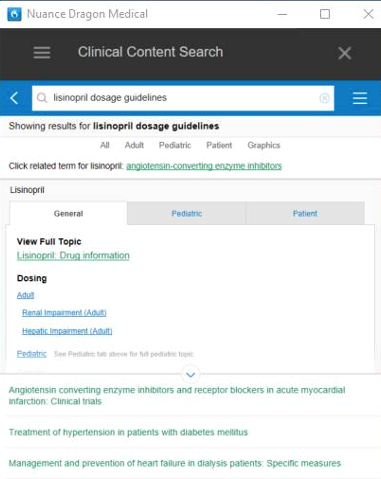 Virtual assistant skills for third‑party content
Clinical Content Search with Wolter Kluwer's UpToDate®
Now available—part of a new series of voice assistant tools in Dragon Medical One, the new embedded skill, Clinical Content Search, uses conversational intelligence to connect clinicians directly to relevant clinical topics when they ask natural questions such as, "Hey Dragon, search UpToDate for lisinopril dosage guidelines."
The new skill can help clinicians retrieve information in UpToDate, such as medication dosage schedules, disease states, drug interactions, clinical calculators, side effect symptoms and other continuously updated clinical content. Over 90 independent research studies have shown it is associated with improved outcomes—including reduced lengths of stay, fewer adverse events, and lower mortality.
This voice assistant skill for Dragon Medical One is available at no additional cost for Dragon Medical One clients with an UpToDate enterprise license.
Benefits and features
Designed for healthcare
Building on decades of healthcare experience, an extensive market footprint, and a highly scalable, multi‑channel virtual assistant platform, Nuance is voice‑enabling workflows for healthcare providers.
Improved clinician experience
By enabling an interactive EHR experience, physicians access patient information in the EHR more easily and spend less time creating documentation.
Improved patient experience
When physicians interact with patients directly—without the intrusion of technology—they are perceived as more compassionate, more professional and better communicators.
Cognitive arbitration
AI capabilities automatically determine where to send dictation and user‑initiated virtual assistant requests—Dragon Medical One, the EHR or another application—based on request context.
Strategic joint development
Embedded, unique and sophisticated workflow capabilities are integrated with major electronic health record (EHR) systems that clinicians use every day across mobile, web, and desktop platforms.
Talk to us about the Dragon Medical Virtual Assistant.
Tell us about yourself and your interests.