To make your job easier, we work harder on partnerships
Nuance solutions bring hundreds of strategic partnerships to the healthcare ecosystem to create seamless workflows and optimize the EHR. To give clinicians a more natural way to tell the patient story, we go the extra mile. By collaborating with more than 200 IT leaders, we've strived to extend usability and intelligence with—and beyond—the EHR. Our goal is to make it easier for clinicians to document everything without ever taking their focus off what matters most—caring for their patients.
EHR integration
Our partnerships set us apart
Nuance Healthcare solutions—industry‑leading clinical speech recognition, clinical documentation improvement (CDI), computer-assisted physician documentation (CAPD), transcription and diagnostic imaging—are integrated and directly embedded within leading EHRs as well as RIS/PACS and workflow solutions for mobile, web, and desktop. Our allegiance ensures our solutions will continue to evolve as the industry does.
Explore our partnerships with some of the biggest industry players: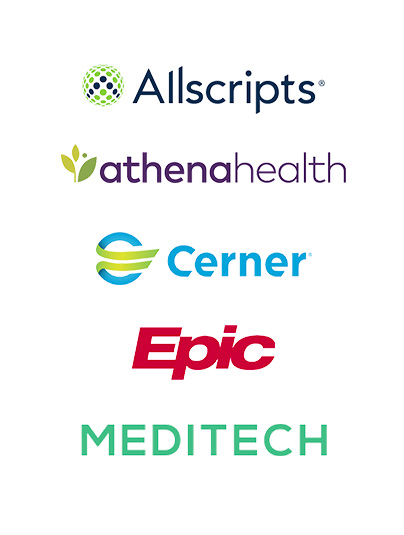 AI innovation in action
Powering the third‑party solutions that empower clinicians
150+
Deeply embedded in more than 150 mobile, web‑based and desktop EHRs
4/5
4 out of 5 facilities that use Allscripts, Cerner, Epic and MEDITECH use Nuance
1k+
developers use our AI‑powered SDKs
40+
Integrated with more than 40 RIS and Radiology IT systems
17
Integrated with 17 PACS including large and emerging vendors
Nuance partners with EHR vendors to create value for healthcare organizations
Deep integrations between Nuance healthcare solutions and more than 150 electronic health records (EHR) allow physicians to use conversational user interfaces to practice medicine and create effective clinical documentation—while maximizing the value healthcare organizations receive from their EHR solutions.
Knowledgeable service and actionable insights
Transforming innovative technology into intelligent solutions
Our service teams have all the system proficiency and best practices you need to get up and running. We'll help you achieve significant cost savings, increase EHR adoption, streamline workflows, and deliver higher quality care.
Nuance combines clinical expertise and EHR knowledge with technology solutions to help you reach peak performance, user adoption and financial outcomes. Our teams focus on helping you get the most of your Nuance investments by providing guidance, support, and advice every step of the way. Nuance's usage and behavioral analytics—coupled with our deep domain expertise, technology and clinical knowledge—offer insight on how to enhance efficiencies and achieve unparalleled results. Our team of experts help you maximize your investment from the start with our Professional Staffing, Training, Go‑Live, Optimization, Clinical Service Desk, and Epic MyChart Service desk offerings.
Integration beyond the EHR
Are you a healthcare developer?
Discover the value of our AI‑powered SDKs for healthcare. Our global, enterprise-class development ecosystem is ready for you.
Want to access Dragon Medical beyond your EHR?
Dragon Medical One clients can access their personal speech profile in apps for secure communication, care coordination, clinical reference, telemedicine, population health, and more.
Do you have a mobile productivity app to recommend for speech‑enablement?
Ready to make the most of your clinical documentation?
We want to partner with you, too.
Contact us to speak to a specialist