The #1 clinical documentation companion just got better
Next-level speech‑driven clinical documentation with secure, convenient, and comprehensive support from pre‑charting through post encounter.


Automate the tasks that hold you back
We've listened to the clinicians who named Dragon Medical One #1 for three years running for its medical dictation capabilities, preserving the proven, portable, personalized features that earned their accolades and empowering them with a nimble modern architecture that is faster, more flexible, and future‑proof.
Ranked #1 Best in KLAS for 3 consecutive years
Named Best in KLAS: Software & Services award for three consecutive years, 2021‑2023, earning praise from clinicians for helping them deliver and document better patient care.

#1 AI Powered and Cloud‑Based Provider from Black Book
Nuance ranked #1 in 2022 for speech recognition and clinical intelligence solutions for third consecutive year.

FedRAMP Authorized Solution
Listed as Authorized on the FedRAMP Marketplace, Dragon Medical One is ready for procurement, authorization, and deployment.
ROI resources
Evaluating the ROI of Dragon Medical One
Next‑level speech-driven clinical documentation.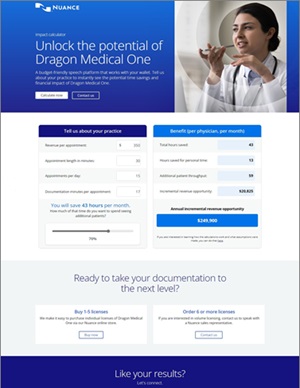 A budget‑friendly speech platform that works with your wallet. Tell us about your practice to instantly see the potential time savings and financial impact of Dragon Medical One.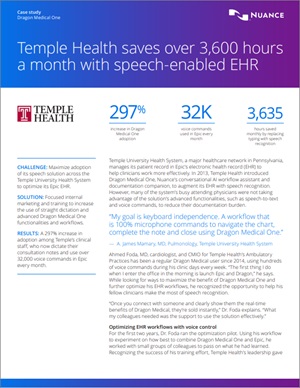 Temple Health saves over 3,600 hours a month with increased training and adoption of Dragon Medical One dictation and with voice command use has created significant time savings for their clinicians.
Documentation aid
There's a cure for time‑consuming documentation challenges
Conquer the clicks with advanced speech recognition that delivers a more productive, personalized documentation experience before, during, and after the patient visit.
Off-the-charts accuracy
Best‑in‑class speech recognition capabilities allow you to dictate notes immediately, with no voice profile training. Achieve 99% accuracy with automatic accent detection and audio calibration.
Select‑and‑say with built‑in voice control
Format, correct, and navigate notes quickly and easily using natural language commands designed to optimize workflows.
Auto‑punctuation
Save time with speech recognition intuitive enough to finish your sentences—and punctuate them correctly without verbal prompts.
Dictation done better
Dictate at cursor, directly into the application of your choice, or use a dictation box to access your personalizations and transfer text between apps. Anchor dictation allows you to maintain focus as you move between multiple apps.
Smartphone mic
When paired with PowerMic Mobile, any workstation becomes a dictation station, giving clinicians freedom to document notes using their smartphones as secure wireless microphones.
AutoText
Reduce time and eliminate repetitive data entry by automating how commonly used content and information is added to clinical notes. Customized shortcuts can be shared across users, departments, and organizations.
See Dragon Medical One in action
View our short on-demand demo and explore how to go beyond dictation with Dragon Medical One.
View demo
Hands‑free convenience and always listening
Eliminate the need for manual controls or clicks, enhancing clinicians' control, ease of use, and freedom, completely. Simply say "Wake up" to turn on the hands‑free microphone, which is always listening.
See why wake‑up‑word is one of Dragon Medical One's most valued features.
Workflow assistant
Integrated voice skills that make workflows work your way
Take the monotony out of repetitive tasks with custom voice skills that enrich your workflow experience with automated shortcuts, easier access to specialized information, and seamless navigation of the EHR.
Custom skills
Bring ease to common routines by automating tasks like moving through patient charts, placing orders, and signing notes. You can also customize shortcuts for personal emails, Microsoft Office documents, or complex searches.
Advanced skills
With complimentary, built‑in access to third‑party resources, you can use your voice to seamlessly search for clinical content on UpToDate or quickly call up medical reference data on MDCalc.
Premium skills
Use EHR‑specific skills to voice‑enable high‑value clinical tasks like order entry, chart search and review, and note retrieval. Interact effortlessly with Hey Epic!, Cerner Voice Assist, and MEDITECH Expanse Virtual Assistant.
Less typing, more doing
Cut the clicks and move beyond the keyboard with sophisticated speech recognition.
Performance analytics
Act on insights to boost efficiency and enhance performance
Access self‑service analytics and peer benchmarking to track and monitor KPI trends and use actionable intelligence to maximize individual and group performance.
With Microsoft Power BI reports and visualization, Dragon Medical One delivers deep insight into organization, group, and individual metrics. It yields greater understanding of performance and opportunities for improvement, helping to consistently provide a benchmark for success.
Reports include productivity and efficiency forecasts as well as data on dictation quality and peer benchmarking across the industry's largest deployment of speech technology, measuring performance against more than 6,500 healthcare organizations, hundreds of thousands of users, hundreds of millions of voice skills and AutoTexts, and billions of lines of dictation.
Mobile EHR access
Effortless synergy with mobile and web EHRs
Extend the reach of your investment with enhanced capabilities designed to work specifically with mobile and web EHR apps including Epic Haiku and Canto, Cerner PowerChart Touch, and MEDITECH Expanse.
Dragon Medical One and DAX
A natural combination with unparalleled potential
Dragon Ambient eXperience (DAX) works seamlessly with Dragon Medical One to complete and enhance the quality of the patient‑physician experience, increasing efficiency and improving financial outcomes.
Meet DAX Copilot
AI‑automated clinical notes in seconds.
Learn how AI‑powered automated documentation is improving efficiencies and igniting a new era of copilots for healthcare.
Discover more
Video testimonials
Dragon Medical One real‑world use cases
The industry‑best speech recognition doctors depend on also delivers actionable workflow assistance and clinical guidance.
Three reasons to upgrade to Dragon Medical One now
Prevent security threats
As support for Dragon Medical Practice Edition has ended, providers must consider HIPAA compliance regulations and potential violations of running unsupported software that includes a security risk to your healthcare business.
Heightened accuracy
30% more accuracy in dictation than Dragon Medical Practice Edition without the voice training, immediately recognizing accents and dialects.
Easier deployment
Unlimited installations and compatibility within Citrix, Remote Desktop, and other thin client deployment.
Ready to take your documentation to the next level?
Contact us to speak to a specialist.