Automatically document care with the Dragon Ambient eXperience
The exam of the future has arrived with clinical documentation that writes itself™

Nuance DAX and the University of Michigan Health‑West
Explore how the University of Michigan Health‑West has expanded its deployment of Nuance DAX to empower physicians to reduce administrative workloads and focus on patient care with clinical documentation that writes itself.
To learn more, read the press release here.
Unmatched outcomes
The positive impact on care delivery
7 min
Saved per encounter. Reducing documentation time by 50%.
70%
Reduction in feelings of burnout and fatigue.
79%
Of physicians state DAX improves documentation quality.
83%
Of patients say their physician is more personable and conversational.
Better patient‑physician experience, all around
Discover how to improve care quality, boost efficiency, and reduce physician burnout with the Dragon Ambient eXperience.
Join a virtual demo
Ambient clinical intelligence (ACI)—a comprehensive, AI‑powered, voice‑enabled solution
ACI uses ambient sensing technology to securely listen to clinician‑patient encounter conversations while offering workflow and knowledge automation to complement the EHR. Exceeding the capabilities of a virtual or on‑site scribe, the Nuance Dragon Ambient eXperience (DAX), innovated by Nuance and Microsoft, promotes a better patient experience by accurately capturing and appropriately contextualizing every word of the patient encounter and automatically documenting patient care without taking the physician's attention off the patient.
Ambient device and mobile application
Clinicians engage in conversation with their patients while a dedicated mobile app or purpose‑built ambient device with highly optimized microphone array, large interactive display, integrated biometrics, and multi‑sensory capabilities securely captures a multi‑party conversation.
Ambient skills
Simply say "Hey Dragon" to get information in and out of the EHR. Integrated virtual assistant capabilities enable care teams to complete a growing list of tasks in real time within their EHR and other third-party applications.
Ambient documentation
Deep‑learning‑based AI securely converts encounter conversations into standardized, structured notes tailored for each specialty that adhere to established documentation standards. AI‑generated notes go through a brief quality review process to check for accuracy, omissions, and appropriateness before being delivered to the clinician for signature in the EHR—creating an AI learning loop for continuous improvement.
Incorporates CMS E/M guidelines and clinical documentation integrity standards from the Association for Healthcare Documentation Integrity (AHDI). We tune documentation through an architecture embedded with specialty-specific requirements gleaned from extensive research and analysis of thousands of sample notes and the design principles of quality, integrity, enhancement and optimization.
Integrates subject matter expertise and clinical knowledge with real-world experience to produce high-value, adaptable, cross-specialty documentation. Documentation includes explicit CMS guidance, structure and terminology.
Contains a consistent set of sections, terminology, and formatting that use Association for Healthcare Documentation Integrity (AHDI) styles and standards. These standards help ensure concise, unambiguous communication of health information.
Is tailored to meet each specialty's diverse clinical workflows, conventions, and care pathways. It incorporates specialty and sub-specialty norms and requirements to improve usability and value.
Is optimized so you can create high-quality clinical notes with ease. Our team of clinical documentation experts assess the EHR workflow and templates currently used and identify opportunities for improvement. Put simply, the better the verbalization of the patient encounter, the better the note and less time spent on documentation.
Videos
Explore Nuance DAX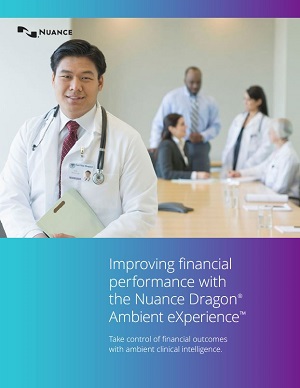 Discover how to take control of financial outcomes with ambient clinical intelligence.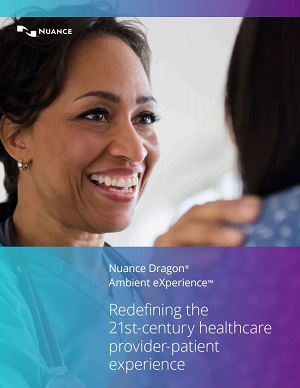 Read real examples of the exceptional return on investment achieved with Nuance DAX.
Features
Designed for healthcare
Nuance DAX is built on decades of healthcare experience and an extensive market footprint. The wide‑scale deployment of our speech recognition platform across a large customer base gives us incredible amounts of data to continually improve our AI. Every word teaches and reinforces meaning, allowing the technology to better predict and understand how to contextualize new information. Built on the highly‑secure HITRUST CSF certified, Microsoft Azure platform, the Nuance DAX solution is available for an array of medical specialties.
Diarized speech recognition
Every word of the encounter is captured while punctuation and formatting happen automatically. Physician statements and relevant patient responses are added to the clinical note, eliminating the need to reenter information.
Intelligent translation and summarization
Physicians speak naturally, and key information is translated into clinical terminology through intelligent summarization.
Secure voice biometric authentication
Voice biometrics is used for secure authentication as well as speaker identification.
Extensive quality review
Clinical notes go through a rigorous quality process to check for accuracy, omissions, and appropriateness.
High‑quality note output
Produces a high-quality note that's standardized, structured and tailored to each specialty. Notes adhere to documentation standards reducing the burden of compliance knowledge and enabling, accurate coding.
Three solution options for telehealth
The Nuance DAX mobile app, Nuance DAX for Microsoft® Teams and Nuance DAX for Microsoft® Teams for Epic users. All solutions securely capture and contextualize patient provider conversations in all ambulatory specialties including primary care and urgent care.
See the exam room
Experience what's possible today
Machine learning and AI show great promise for healthcare. Explore innovations that amplify human intelligence to improve how care teams interact with patients and document care.
(Play a video)
Physician burnout is at epidemic levels as doctors spend two hours on administrative tasks for every hour they spend with patients, plus one to two hours of after‑hours work at night. Discover how doctors from Nebraska Medicine use ambient clinical intelligence solutions from Nuance and Microsoft to lessen their administrative burden and to spend more time focusing on patients.
Witness the latest in AI and machine learning, combined with ambient sensing technology, where human conversation moves to the forefront and clinical documentation writes itself—all within the EHR.
What makes ambient intelligence even stronger is the AI expertise leveraged from millions of people and thousands of organizations that rely on Nuance AI in their cars, throughout financial institutions, and across the world's leading consumer brands.
Real-world case studies
How Nuance DAX transforms healthcare
Nuance spoke to physicians across the U.S., serving a diverse set of populations and specialties to understand the impact of Nuance DAX on their patients, practices, and organizations.
Video case study
Expand access to care and improve the patient experience
Dr. Sharmin, a Family Care Medicine Specialist at WellSpan health, shares how DAX is helping to expand access to care, and improve quality of care and the patient experience.
Journey to ambient
Your journey starts with Dragon Medical One
Nuance DAX leverages and extends the power of Dragon Medical One with the latest advancements in ambient sensing technology and AI to create a fully voice‑enabled and ambient exam room environment. Take advantage of the industry's most widely used cloud‑based speech recognition technology and benefit from increased levels of workflow, task, and knowledge automation.
Insights into ambient intelligence technologies
Discover how ambient clinical intelligence can
improve the patient experience and reduce physician burnout.
Visit the infohub
Proven innovation across industries
What makes ambient intelligence an even stronger value proposition is the AI expertise leveraged from the millions of people and thousands of organizations that rely on Nuance AI across the world's leading consumer brands.
600M
consumer voiceprints are powered by Nuance AI
The same technology securely identifies healthcare conversations to automatically document patient encounters.
600M
virtual and live chats per year powered by Nuance AI
The same technology makes it possible for care teams to conversationally interact with the EHR.
125
Nuance AI delivers text‑to‑speech with 125 voices in 50 languages
The same technology makes our virtual assistant sound like an extension of the care team.