Automatically document care with the Dragon Ambient eXperience
Enhance quality of care and the patient experience, increase provider efficiency and satisfaction, and improve financial outcomes with the Dragon Ambient eXperience (Nuance DAX), an ambient clinical intelligence solution that automatically documents patient encounters accurately and efficiently at the point of care.

Reduce administrative burdens
See how the latest in AI can move the conversation back to the forefront with clinical documentation that writes itself—all within the EHR.
Unmatched outcomes
The positive impact on care delivery
7 min
Saved per encounter. Reducing documentation time by 50%.
70%
Reduction in feelings of burnout and fatigue.
79%
Of physicians state DAX improves documentation quality.
83%
Of patients say their physician is more personable and conversational.
Nuance DAX receives an "A" in KLAS's Emerging Technology Spotlight report
Learn why customers rate Nuance DAX top of the class for its ability to automatically create clinical documentation, reduce physician workloads and improve both patient and provider satisfaction.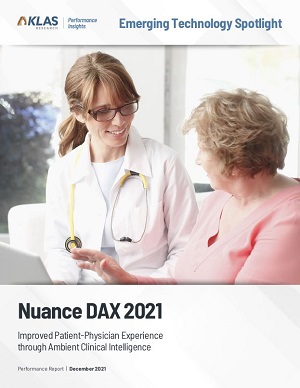 Features
DAX is a comprehensive, AI‑powered, voice‑enabled, Ambient Clinical Intelligence (ACI) Solution
DAX automatically documents patient encounters accurately and efficiently at the point of care. Exceeding the capabilities of a virtual or on‑site scribe, DAX scales across your organization to deliver better healthcare experiences for providers and patients.
Captures a multi‑party conversation ambiently
Clinicians engage in natural conversation with patients and other family members while a dedicated mobile app securely captures the conversation at the point of care, allowing providers to connect with patients without having to use explicit voice commands.
Creates clinical documentation automatically
Converts encounter conversations into comprehensive clinical notes tailored to each specialty that adhere to documentation standards, reducing the burden of compliance expertise, and enabling appropriate coding.
Produces high‑quality documentation
Integrates subject matter expertise and clinical knowledge with real‑world experience to produce high‑value, adaptable, cross‑specialty documentation. Accommodates multiple documentation formats and templates.
Delivers accurate documentation efficiently and consistently
AI‑generated notes go through a brief quality review process before being delivered to the clinician for signature in the EHR. DAX's AI learns the patterns of each provider over time creating an AI learning loop for continuous improvement.
Integrates with electronic health records
Integrates with electronic healthcare record systems to pull out patient context, deliver the final note, and enable care teams to complete a growing list of tasks in real time with virtual assistants.
Scales across healthcare organizations
Use for telehealth and office settings in ambulatory specialties, urgent care and primary care to scale more efficiently within your healthcare organization.
Better patient‑physician experience, all around.
Discover how to improve care quality, boost efficiency, and reduce physician burnout with the Dragon Ambient eXperience.
Join a virtual demo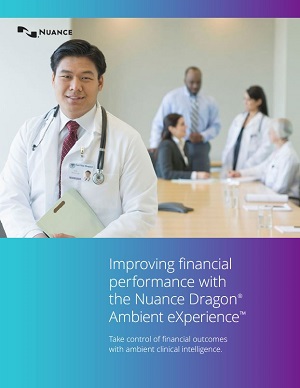 Discover how to take control of financial outcomes with ambient clinical intelligence.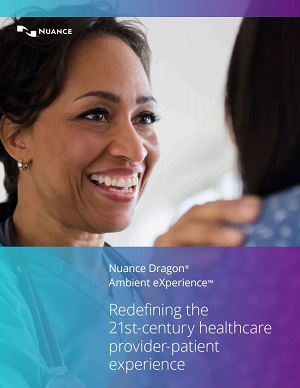 Read real examples of the exceptional return on investment achieved with Nuance DAX.
Journey to ambient
Your journey starts with Dragon Medical One
Nuance DAX leverages and extends the power of Dragon Medical One with the latest advancements in ambient sensing technology and AI to create a fully voice‑enabled and ambient exam room environment. Take advantage of the industry's most widely used cloud‑based speech recognition technology and benefit from increased levels of workflow, task, and knowledge automation.
Proven innovation across industries
What makes ambient intelligence an even stronger value proposition is the AI expertise leveraged from the millions of people and thousands of organizations that rely on Nuance AI across the world's leading consumer brands.
600M
consumer voiceprints are powered by Nuance AI
The same technology securely identifies healthcare conversations to automatically document patient encounters.
600M
virtual and live chats per year powered by Nuance AI
The same technology makes it possible for care teams to conversationally interact with the EHR.
125
Nuance AI delivers text‑to‑speech with 125 voices in 50 languages
The same technology makes our virtual assistant sound like an extension of the care team.
Talk to us about ambient clinical intelligence.
The exam of the future has arrived with clinical documentation that writes itself™