Automatically document care with Dragon Ambient eXperience
Improve clinician satisfaction, patient experiences, operational efficiencies, and financial outcomes with Dragon Ambient eXperience (DAX), an AI‑powered ambient clinical intelligence solution that automatically documents patient encounters accurately and efficiently at the point of care. ​
Your clinical documentation copilot
Serving as an AI assistant for automated clinical documentation, DAX Copilot enables physicians to do more with less and turn their words into a powerful productivity tool. Amplified by the unmatched power and scale of the Microsoft Cloud for Healthcare, it combines Nuance's proven conversational and ambient AI with the newest and most capable generative AI.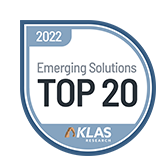 Nuance DAX ranks #1 for improving clinician experience
Industry‑leading ambient clinical intelligence solution featured in the 2022 KLAS Emerging Solutions Top 20 Report.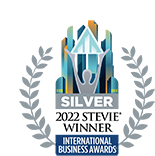 Nuance DAX awarded Silver for Healthcare Technology
2022 Stevie Award cites Nuance's ability to provide a complete solution and DAX's impact as incredible.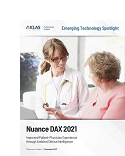 Nuance DAX receives an "A" in overall customer satisfaction
KLAS Spotlight validates DAX's ability to ease clinical documentation burden and strengthen patient‑physician relationship.
Unmatched outcomes
The positive impact on care delivery
7 min
saved per encounter, reducing documentation time by 50%
70%
reduction in feelings of burnout and fatigue
3 of 4
physicians state DAX improves documentation quality
85%
of patients say their physician is more personable and conversational
ROI resources
Evaluating the ROI of DAX
Boost efficiency, reduce costs, and eliminate documentation burden.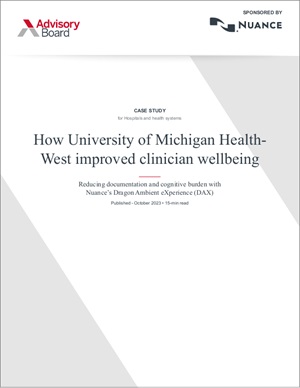 Learn how University of Michigan Health‑West (UMHW) increased throughput, wRVUs, and realized significant ROI with DAX. Advisory Board conducted a study of DAX at UMHW that revealed clinicians using DAX saw an additional 12 patients per month and increased their wRVUs by 20 per month. The revenue generated from the additional visits covered the cost with an additional 80% ROI.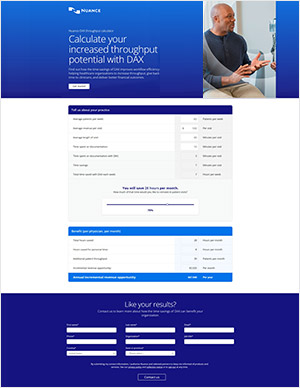 The time-savings of DAX improves workflow efficiency. Some healthcare organizations use the time-savings to increase throughput, others give it back to clinicians while others do both. Find out how the time-savings of DAX will impact your organization with the DAX throughput calculator.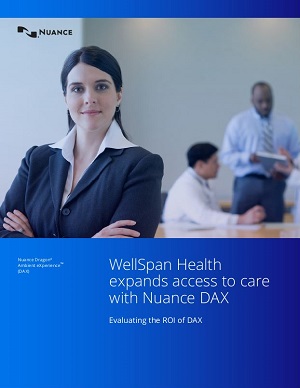 WellSpan Health and Nuance collaborated on a study to evaluate the impact of DAX on healthcare. See how DAX drove increases in access to care fueled by additional throughput, reductions in clinician burnout and cognitive load and improvements in the patient experience.
The many benefits of DAX
DAX positively impacts the healthcare experience—from the waiting room, the exam room and after clinic.
Clinicians are freed from the medical documentation burden:
Appointments run on time
Clinicians can focus on patients while the full patient story is captured automatically
Clinicians have free time after clinic to spend time however they choose
DAX is a proven AI‑powered, voice‑enabled, Ambient Clinical Intelligence (ACI) solution
DAX automatically documents patient encounters accurately and efficiently at the point of care. Exceeding the capabilities of a virtual or on‑site scribe, DAX scales across your organization affordably to deliver better healthcare experiences for clinicians and patients.
Captures a multi‑party conversation ambiently
Clinicians engage in natural conversation with patients and other family members while the mobile app securely captures the conversation at the point of care, allowing clinicians to connect with patients rather than screens.
Creates clinical documentation automatically
Converts encounter conversations into comprehensive specialty‑specific clinical documentation summaries, and delivers the summary into the application and the Dragon Medical One desktop in seconds for clinician review and editing. ​
Produces high‑quality documentation
Uses the latest AI technologies and is trained on over 10M encounters to produce accurate documentation efficiently and consistently. ​
Works seamlessly with electronic health records
Used in conjunction with Dragon Medical One which integrates with over 200 EHRs, streamlining implementation.
Customizable templates
Clinicians can customize and personalize note templates with Dragon Medical One and functionality in the EHR to ensure consistency and a streamlined workflow tailored to individual needs​
Scales across healthcare organizations
Use for telehealth and office settings in ambulatory specialties, urgent care and primary care to scale more efficiently within your healthcare organization.
Experience better healthcare.
Discover how generative AI‑infused healthcare experiences are transforming healthcare for clinicians, patients and healthcare organizations.
Register for a livestream session
Our AI approach sets us apart
Combining proven AI and Large Language Models (LLMs) backed by Microsoft's scale, strength, and security, our award‑winning AI is built on a rich clinical data set anchored in more than 1B+ minutes of medical dictation annually and 10M+ ambient encounters. As part of the Microsoft Cloud for Healthcare, DAX is delivered through a trusted infrastructure and global platform, guided by an established responsible AI framework and core set of principles.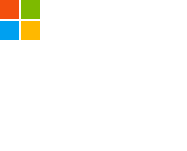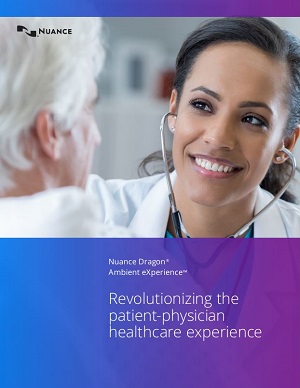 Revolutionizing the patient‑physician healthcare experience
Learn how innovative technology will shape 21st‑century healthcare and why organizations need to embrace these solutions to help physicians' enhance patient care, improve physician satisfaction and increase operational efficiencies.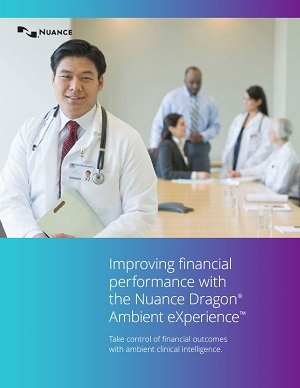 Improving financial performance with the Nuance Dragon Ambient eXperience
Discover how to take control of financial outcomes with ambient clinical intelligence.
Talk to us about ambient clinical intelligence.
The exam of the future has arrived with clinical documentation that writes itself™